Getting Strange in Latest Issue of Spray Foam Magazine
Getting Strange in Latest Issue of Spray Foam Magazine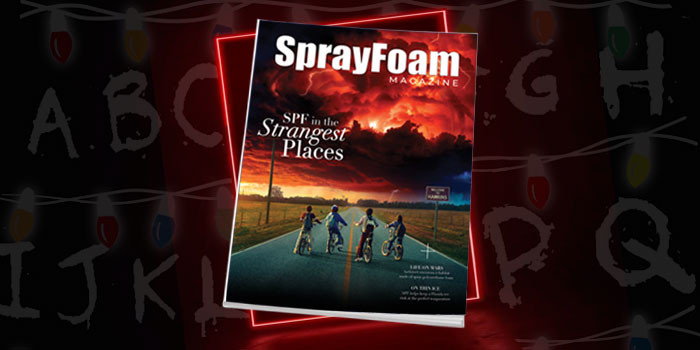 Jupiter, Florida – October 1, 2019 – Fall is here, the temperatures begin to drop, leaves begin to fall, and things are getting weird! Spray Foam Magazine's 2019 Fall edition focuses on unique places to spray foam. This issue features a set designer from the hit Netflix series, Stranger Things. We follow the once architect, turned set designer, into tunnels and through a large tree that leads to another dimension, where readers are exposed to the incredible and slightly extraordinary uses of spray foam insulation.
Getting hot under the collar, Spray Foam Magazine spoke with International Fireproof Technology, Inc. about how a protective coating over spray foam helped prevent a catastrophe in an airplane hanger. Jumping out of the fire onto the ice, we don't skate around the questions when it comes to finding out, how an ice rink really stays the perfect side of freezing? Plus, there is something so perfectly compact and versatile about shipping containers, so we went inside and viewed some of these unique containers and asked the question, "why use spray foam insulation on such a small space?"
From small to humungous, this issue takes readers into the veins of a heart surgeon's 80,000 square foot home, which utilized spray foam as the obviously choice for insulation. This home is so impressive it even makes the Taj Mahal look like it needs a makeover!
Fall Issue Highlights:
About Spray Foam Magazine:
Spray Foam Magazine (SFM) is targeted to a global audience of building construction professionals and energy-conscious readers. It is distributed bi-monthly to applicators, manufacturers, distributors, specifiers, general contractors, architects, engineers, and managers in both the public and private sectors.
SFM has achieved portable coverage and reported on industry innovators, influencer sand solution providers whom grace the pages of every issue.
Don't miss out, pick up a copy today and stay informed. For more information or free instant access, please use the links provided below.
Contact Details
Name: Spray Foam Magazine
Email: Email Us
Phone No: 561-768-9793
---
Getting Strange in Latest Issue of Spray Foam Magazine