Setting the Stage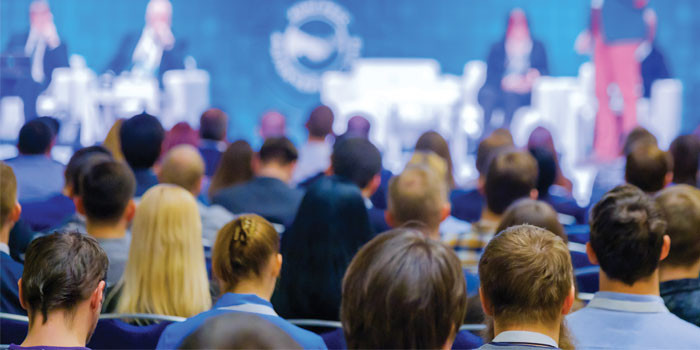 Spray Foam Magazine – Fall Issue 2019 – The Westford Symposium on Building Science is held every year in Westford, Massachusetts, hometown to one of the most influential building scientists of our time, Dr. Joseph Lstiburek. He and his company, Building Science Corp., have been hosting this event every year for 23 years. It's a two-and-a-half day event that is a mix of seminars by day and networking by night. The seminars are hand picked by Dr. Lstiburek covering various topics on building science with no particular yearly theme, just what's interesting and new at the time. At night, Dr. Lstiburek invites all to his home where they prepare the most delicious meals, serve the most quenching drinks, and provide the most live entertainment, everything you need to break the ice and network with the 500+ people in the backyard.
I've attended at least eight of these and find them to have the highest quality presentations on building science, and of course great opportunities to network and enjoy delicious meals at night. Each year the significance of the presentations to my interest of spray polyurethane foam (SPF) vary. Some years there are very little and some years quite a lot, but they are always very interesting either way. This year was exceptional as there were several interesting presentations related to our industry. Here are a few I think you'll find significant.
Jesse Beitel, Sr. Scientist / Principal at Hughes Associates, Inc., spoke about NFPA 285 test. Mr. Beitel was instrumental in developing NFAP 285 and continuing to consult on its use today. Without getting into all the specifics and building code exceptions, if you are in the business of selling or installing SPF in an exterior commercial wall, you want to pay attention to NFPA 285. It's extremely likely your foam system has been evaluated per NFPA 285 in many wall assemblies. The test is designed to examine how a fire propagates up or across a wall from the interior, exterior or inside the wall cavity due to the presence of a combustible material (i.e. spray polyurethane foam). Most of the details about the test, how it is run, and when it's required is common knowledge to many SPF manufacturers. The important part of the presentation is that NFPA 285 has undergone a technical revision for the first time in around 18 years. This new 2019 version effects approvals where the exterior cladding system has seams such as metal and concrete panels. Exterior cladding such as brick or CMU would not be included as they are not panelized systems with seams. The new NFPA 285 version requires the seams to be in specific places in the test assembly where it wasn't required before. Any new or current approvals will have to be updated per this in 2019. The grace period has not been set, but manufacturers should be examining their current approvals and determine now if they need to retest.

The presentation on AeroBarrier was one of the most interesting presentations during the event and has many similarities with SPF. AeroBarrier (www.aerobarrier.net) is an acrylic-based product that is pumped into a pressurized home through spray nozzles attached to tripods throughout the structure, typically a house during the construction phase. The pressure pushes the aerosolized product out of the home through construction cracks and holes. The product will seal up any opening less than a half-inch wide as it is being pushed through the walls. This product seems like a perfect companion to spray foam insulation as it can seal up wood-to-wood connections where SPF is not installed. This product is typically installed in a home immediately after the drywall is installed and before flooring is to limit the amount of surfaces needing protection. The equipment includes generators, compressors, pumps and chemical, all familiar equipment to a SPF contractor. For those installing SPF in an upscale residence seeking ultra-airtight construction, this product would be a great tool to add to your product line.

Finally, Dr. Lstiburek, who gets to have the final say because it's his conference, closed with a presentation highlighting outcomes of his most recent research on unvented attics. Dr. Lstiburek has been instrumental in creating and changing building code surrounding unvented attics over the last 15 years and is mostly responsible for what's currently in the code on this topic. His most recent research demonstrates you can create an unvented attic where the insulation is only on the attic floor in climate zones 1-3. Sweaty ducts is a major issue in warm and humid climates with air conditioning ducts located in the attic. His research shows no ill effects to just closing off the attic vents in these climates provided you allow humidity to escape through a vapor permeable membrane at the ridge. This attic design will prevent humidity from entering the attic space creating an atmosphere where excessive condensation will not occur on air conditioning ducts.
These are a few of the most interesting topics presented at this year's symposium as they relate to our industry. As this event is by invitation only, it isn't something I can give you a link to, but if you are interested in building science topics, go to www.buildingscience.com and look at the seminars they offer throughout North America each year and make a point to say hi to Dr. Lstiburek if you attend one. There are also many other ways to learn more about building science and attend seminars. You can start by contacting your favorite spray foam supplier or visiting www.sprayfoam.com for more information.

Contact Details
Name: Jason Hoerter
Email: Email Us
Phone No: 336-209-6158
You May Also Like