Repurposed & Insulated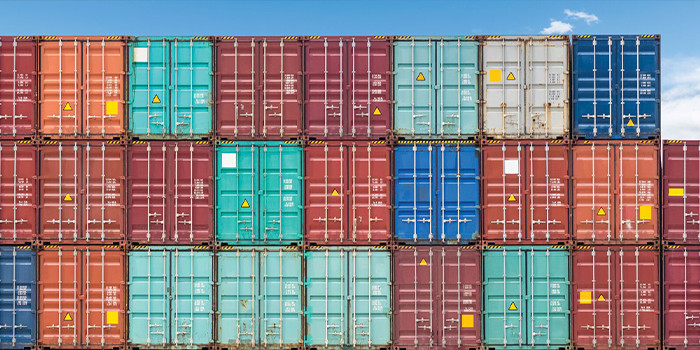 Spray Foam Magazine – Fall Issue 2019 – Over the last few years, the trend of repurposing shipping containers to create residential, commercial, office, and storage spaces have been magnified tenfold, if not more. The thought behind creating livable environments out of discarded structures has resonated with an entire generation of people trying to minimize costs while making use of sustainable, eco-friendly dwellings. The versatility and durability of these containers make them perfect for a variety of projects. But like most structures, these shipping containers need insulation to render an optimal climate for whoever is residing or for whatever is being stored in these units.
Bearing this in mind, it comes as little to no surprise that the growing popularity of repurposed shipping containers has a direct correlation with more and more spray foam contractors receiving job leads leading to shipping container applications as of late. To take a closer look at these SPF projects that partake in this revolutionary structural movement, Spray Foam Magazine decided to look at some recent projects involving the usage of shipping containers.

Here are a few examples of some recently completed jobs of a thriving component within the SPF industry:
Where Foam Meets Rock 'n Roll

Our first featured job took us over to Marine City, Michigan, near Detroit aka Motor City, where we discovered a usage for insulated shipping containers that truly stands out—the housing of musical instruments.
Robert "Bob" Klinger, owner of Rockford Carving in Marine City, Michigan whose company specializes in the start-to-finish design of high-end guitars contacted the team at Foam All Spray Insulation, also from Marine City, with a specific request. The request entailed the application of spray foam insulation to a shipping container Klinger had recently acquired and wanted to repurpose as an extension of his day-to-day business. Specifically, Klinger wanted to provide insulation to a shipping container that he looked to turn into a workshop to hold wood that was made malleable to contort into specific components within the assembly of hollow-bodied guitars.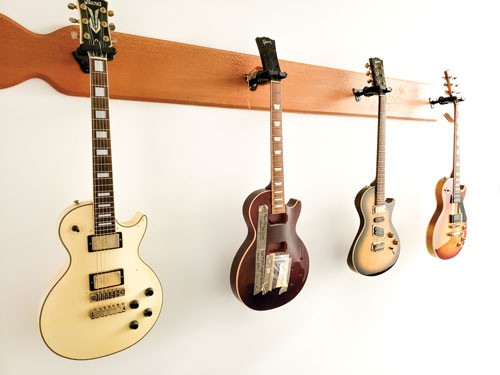 For the application, Foam All assembled a three-man team consisting of Certified Master Installer Danny Walker and his assistants, Ricky Walker, and Kristy Buckingham. Prior to spraying any foam, they masked the entire floor of the unit, covered the light and electrical boxes for maintenance access before they moved on to the application process. Then, the crew suited up in Tyveks and wore fresh-air supply respirators, gloves, and boots and applied three inches to the container's building envelope of Gaco One-Pass,a two-pound spray foam formulated by Gaco Western.

"Closed-cell foam was the best choice of product in this application as this box [container] used to hold high humidity," says Walker, a two-year foam installer for Foam All Spray Insulation. "With the air sealing and vapor barrier properties of closed-cell foam, we rest assured that the desired humidity within the unit meets required specifications and that the materials inside it are not compromised in any way."

Walker and his assistant utilized a Graco E-30 proportioner and a Graco Probler P2 spray gun to complete the application, which took just over two hours to complete from start to finish, including prep work and cleanup. After the crew completed the application, they returned to the property to monitor the performance of the spray foam.

Although the purpose of the application was not to store actual guitars in the conditioned unit, Walker did see an array of signature Gibson and Ibanez' guitars hanging off wooden racks inside the repurposed container (as depicted in the photos) after the application had been completed. This leads one to believe that this unit might have multiple uses — and you never know when a jam session might break out while on the job assembling guitars! 
No Sparks Here

Next, we head over to Canada to the town where you can get a more direct look at Niagara Falls: Toronto. 20-year spray foam veteran and five-year business owner, Shawn Gauthier received a lead for a spray polyurethane foam installation to a shipping container unit that was to be utilized to store security cameras, audio and video components, and some computers.
Now, due to the sensitive nature of these electrical components, it was of the utmost importance to keep this particular unit leak-free and devoid of any issues that might arise from dust and condensation—which makes it easy to see why spray foam was the primary choice for insulation material attached to this project. Shawn's company, Combat Foam Insulation, which is based out of Stoney Creek, Ontario successfully secured the job.
Gauthier explained that the unit would not be framed or dry walled and needed to remain free of dust, allergens, and other particles, so conventional insulation was simply "not possible" and noted that closed-cell spray foam was required to create a robust air and vapor barrier throughout the entire unit.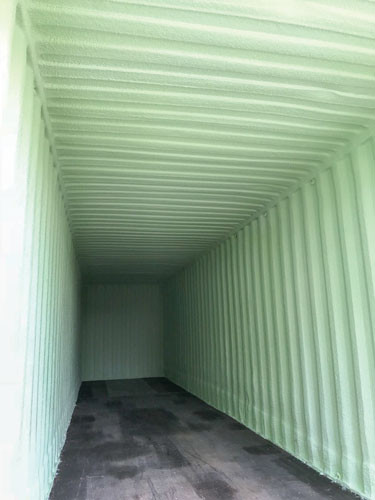 "By completely encapsulating the unit with closed-cell spray foam, the unit would stay clean and dry without the chance of condensation formation in the unit," says Gauthier.

The preparation of the shipping container storage unit consisted only of covering the floor with two-mil plastic stapled down to the wooden floor and taped around the door frames and entry area. According to Gauthier, his crew found the unit extremely clean and dry when they arrived on-site, so priming the interior was not required. Therefore, the Combat Foam Insulation crew was able to get right to work after prep work was completed. They put on PPE consisting of fresh air respirators, goggles, and gloves; fired up their Graco E-30 proportioner with preheaters set at 103° degrees and hose heat set to 104° degrees; handled a Graco Fusion air-purge spray gun and began the application.

The crew applied to the walls and ceiling of the unit two inches of Genyk's Boreal Nature 2lb. closed-cell foam. Gauthier affirmed the application took only a half-hour to complete.

Once the foam was in place, the crew cleaned up the site by cutting the plastic-free from the ground and rolling it up. Gauthier added that he was proud of the end-result and believes this is a model application that will lead to many more shipping container jobs in the near future.
"These applications without framing and wide-open spray are few and far between for me so I really look forward to them and strive to make them as smooth as possible while still giving the customer the full R-value and thickness required," says Gauthier.
A Good Place for a Cup o' Tea

For our third and final job showcase, we go across the pond to Wadebridge, North Cornwall in the United Kingdom. This small English town straddles the River Camel and is a gateway to the beaches of the North Coast. A small business owner sought to add to the array of eateries in place in this quaint coastal town and convert three adjoining shipping containers into a cafe. The owner knew all about the beneficial properties of spray foam insulation as he had worked in the past with Protec Insulation Services, who installed spray foam to a few of the owner's storage units. This time, he wanted the same benefits for a cafe. But, prior to serving cups of teas, biscuits, or perhaps fish and chips, the owner wanted to have the best insulation and structural rigidity implemented to the units during the repurposing stage.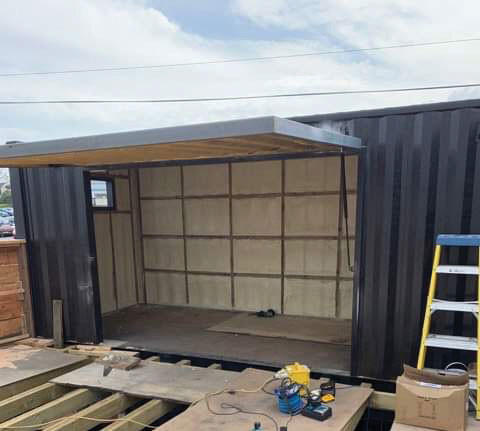 Once again, Protec was brought into the fold for this installation. Although Protec has not been around long (operations began in April 2018), they are now accustomed to this type of application as the market for repurposing shipping containers is evidently vast in this area of England.

"Because of the steel material and corrugated shape of the units coupled with the requirement for as much space as possible, spray polyurethane foam was the only choice for this project," states Neil Rousseau, managing director of Protec.

Protec sent a two-man team to the site for the application. Prep work consisted of masking all new composite doors, windows and timber framing and cleaning all steel work prior to the installation. The crew utilized a Graco Reactor E-30 proportioner and a Graco Fusion air-purge spray gun for the application and wore white application suits, gloves, and a full-fresh air breathing system during the application.

For the application, the Protec crew worked with Lapolla 4G, a two-pound closed-cell spray foam made by Lapolla. They installed two inches of Lapolla 4G to the walls and ceiling of each unit to seal the building envelope. It took approximately three days from start to finish to complete the spray foam insulation installation.

The next step in the creation of this cafe will involve the covering of the foam with plasterboard drywall to round out the beginning stage. Although we weren't privy to the name of the restaurant or when it will be completed, we sure hope it adds to the Wadebridge lifestyle and becomes a regular spot for residents and visitors alike. We can guarantee this much: It'll be a cozy spot to drink a cup of tea! 

You May Also Like