Polyurethane Machinery Corporation (PMC)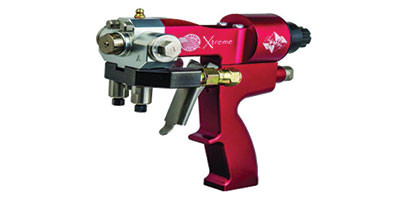 #PMCXtreme Spray Gun
Do you like paying thousands of dollars more for your air purge gun?

Quality Spray Foam and Coatings Equipment made by Professionals for Professionals
Polyurethane Machinery Corporation (PMC)
manufactures equipment and accessories for use in the urethane industry. All of the
PMC high-quality products are proudly manufactured in the USA
and are designed and supported by a skilled team of individuals with over 100 years of experience in the urethane industry. PMC concentrates all of its efforts on the major products of a urethane spray system including but not limited to proportioning units, a uniquely designed heated hose system, transfer pumps, spray guns, and the auxiliary equipment required by a contractor to successfully and economically apply residential foam insulation, roofing, pour foam, Polyurea, and Polyurea hybrid coatings.
PMC's efforts to produce quality products are not diluted by the demands of other product lines. Currently unmatched in the industry, PMC also proudly offers customized solutions to meet customers' particular needs. PMC constantly consults with distributors and veteran contractors alike in creating and expanding the product line.

PMC offers
proportioners
,
spray guns
,
heated hoses
,
transfer pumps
, along with
spare parts & accessories
.
It is this teamwork that dictates the design philosophy to build PMC products to last rather than to become obsolete; putting the customer first, a mindset that separates PMC from the competition. PMC is positioned to offer the only practical alternative to all competitive models based on performance, serviceability, and competitive pricing. At PMC, the service doesn't end with the sale; PMC provides its customers with outstanding sales and technical support through a worldwide distribution network.
Company Tags & Service Areas
United States
New Jersey
Lakewood
08701
Polyurethane Machinery Corporation (PMC)