Schmidt & Dirks Designs, Inc

The C I Cutter was designed and built to trim foam faster and easier than any other planer currently available.We here at Schmidt & Dirks Designs, Inc. feel that we have accomplished those goals with this planer.We have used only high quality dependable parts in the assembly of this planer to ensure long life and at the same time we made it very user friendly. It operates on standard 120 volt power using a 14.5 Amp Makita power-head which has a safety detent button for the throttle and a chain break for added safety.
The cutting side of this Planer is revolutionary in multiple ways. It trims cleanly the full width of the cutting head.Whether you use the 27.5 inch head or the 20.5 inch head, it cuts foam clear to both edges so that corners are no longer a problem. It also trims smoothly on the wall studs doing no damage to them. This means that when you complete your pass up and back down the wall, you are finished with that part. The wall is smooth and the stud is clean. It is also friendly to electrical boxes so you can just run over the top of them if you have tucked in the wires and masked them properly. It cuts the foam into 1/4 to 1/2 inch shavings for faster cleanup.
We here at Schmidt & Dirks Designs have spent many hours personally testing this planer on our own foam insulation projects. The aluminum trimming head has proved to be long lasting and we do supply new heads (cobs) that are easily changed with common tools. The C I Cutter comes with a one year warranty, a drill operated mini cob for trimming around outlets and tight areas, and ships free in the lower 48 states.
We also have the C I Vac-Pac II on the market. This Vac-Pac is a portable system that operates on 240volt power and feeds the trimmings directly into a compacting unit that compacts the loose foam approximately 20 to 1. This means you only have a few heavy bags of waste instead of many light bags. It is fast and easy to operate. It rides on 20 inch wheels and is under 26 inchs wide so that it moves around easily and fits through any standard door. It also ships free in the lower 48 states.
To see more about these products, visit our webpage at www.schmidtanddirksdesigns.com
Company Tags & Service Areas
United States
Idaho
Moscow
83843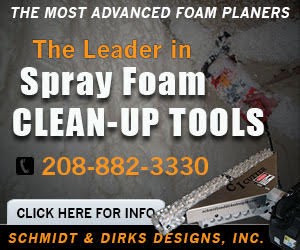 Address:
2216 S. Main St. ,
Suite D4


Moscow

,

Idaho

83843




United States

Phone:

(208) 882-3330
Schmidt & Dirks Designs, Inc