Contractor Financing, LLC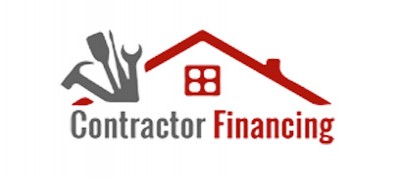 Contractor Financing LLC provides homeowners with option to insulate their homes NOW and contractors with the means to provide that option.

The most successful companies' don't rely on their customers to have the cash to fund their home improvements. Nearly all of them offer a financing option. The market is changing and your ability to offer competitive and homeowner friendly financing is imperative to your company's sustainability and growth.
Up To 75% Of Home Improvement Projects Are Financed
Conservative estimates from market data and input from home improvement contractors nationwide indicate that as high as 75% of home improvement projects over $2,000 are currently financed. That's a fact,
With market conditions changing, there is a growing trend among homeowners to seek out unsecured project financing directly from their contractor or service provider. While secured financing is the preferred option for some homeowners, not all have adequate equity built up in their home to qualify or they have used up their equity over the past few years. Additionally, a growing number of homeowners want to retain their equity and keep their personal credit card balances open in case of emergency. Many also prefer the easy to use and quick loan approval associated with most unsecured financing programs.
Offer Financing as Part of Every Sales Call
Financing is a sales tool that should be used as a center piece of every sales call. Don't assume your customers have cash and even if they do, don't assume that they want to use it on your project. No matter how competitive you are in the marketplace, chances are your project cost is higher than your customer imagined it would be. Letting your customer know up front that you have homeowner friendly financing available, will put them at ease and make your sales presentation much easier. By integrating financing into each and every sales call, you'll see a dramatic increase in overall sales and profitability. Financing enables contractors to:
· Decrease Customer Sticker Shock
· Increase Average Sales Price
· Close More Deals, Quicker
· Increase Their Professional Presence
Selling Monthly Payments Increases Job Scope & Profitability
Since the majority of homeowners finance home improvement projects, they typically have an eye of the impact your project has on their overall monthly costs. Just like all of us, your customers have a household budget to live within. In order to increase job scope and profitability, the top contractors recognize this customer buying trend and sell their home improvement solution based on monthly payments.
By selling payment, contractors are able to move their customers up to more comprehensive, higher value solutions. The table below illustrates the "Power of Financing" and how by leveraging terms and interest rates currently available through industry leading financing programs, you can enable your customers to afford to invest in larger, more profitable, high-end solutions.
The next time you call on a customer, leverage the power of financing and be prepared to offer low monthly payments. For example, instead of presenting your job cost proposal as a $7,500 home improvement, present the project as a high value solution at a low $89 per month and watch your sales soar.
Financing is one of the most critical resources in your customer sales tool kit. Don't knock on another door without an effective financing solution in your sales arsenal. Your competitors are armed and dangerous, and in many cases may be stealing your customers without you even knowing it.
http://www.contractorfinancingllc.com/

Company Tags & Service Areas
United States
Florida
Florida
Coral Springs
33065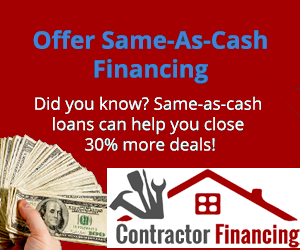 Address:
9900 West Sample Rd. ,
Suite 336


Coral Springs

,

Florida

33065




United States

Phone:

844.287.6909
News
Contractor Financing, LLC