The CI Cutter - Schmidt & Dirks
The CI Cutter - Schmidt & Dirks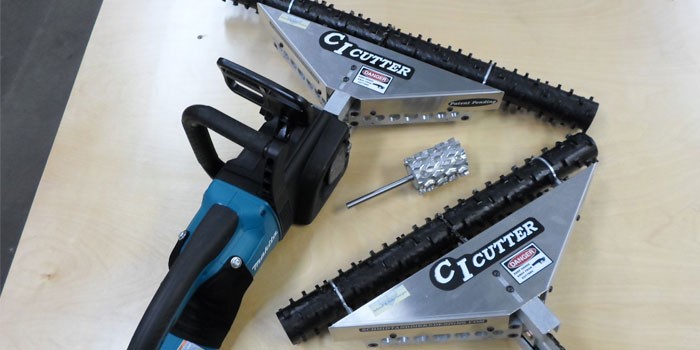 What is it?
The CI Cutter is the most efficient and fastest foam planer on the market today with its powerful 120-volt electric motor and its inboard bearings. You don't need to have a big air compressor and air hose, and the electric motor is filtered so it will last. Safety features include guards and a chain break system.
The power-head is a Makita electric chainsaw, so the handles are positioned correctly. The rotating head is designed to cut the foam to the studs without damaging the studs, and can be used on steel or wood studs. The inboard bearings allow you to trim the corners fast and clean, giving you a flat cut clear across head. The head is available in 20.5-inch or 27.5-inch widths.

There are two different teeth designs, one is specifically for open-cell foam and the other is designed for closed-cell foam. The open-cell teeth are much less aggressive, less harmful to electrical outlets, and leave the open-cell foam smoother. The closed-cell teeth are more aggressive, but can cut open-cell as well. The cutter teeth are replaceable, and we keep all the parts for the head and the Mikita in stock.

Contact Details
Name: Schmidt & Dirks Designs, Inc
Phone No: 208-882-3330
---
The CI Cutter - Schmidt & Dirks