PHD Smart Machine from Polyurethane Machinery Corporation
PHD Smart Machine from Polyurethane Machinery Corporation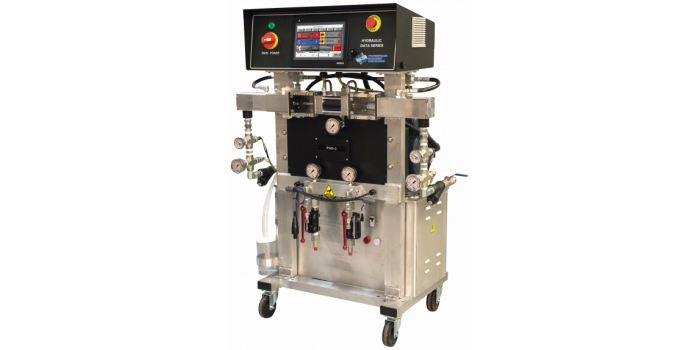 1. What is the product?
The PHD is a polyurethane and polyurea proportioner that monitors all critical functions in real time and saves the data in an excel sheet. Pressure, temperature and the amount of material sprayed are tracked and recorded. Any faults in operation will shut down the machine- the days of spraying off-ratio because of a material restriction or starvation are gone with the PHD. The system is built on the proven PH-2 platform using horizontal material pumps for the smoothest material flow and balance of pressures. Combined with PMC heated hoses and dispense guns, the PHD has the best of both worlds- proven pumping technology with today's data monitoring capabilities and a simple, intuitive interface.
2. What makes it unique?
The PHD has a large-display color touch screen that is easy to navigate and intuitive for the user. It will shut down immediately if the spray parameters required are not met. This prevents any off-ratio material being sprayed. The screen will provide information on where to quickly resolve the shutdown and begin spraying again. Features like Pressure Balance Control allow the user to set the maximum variance in pressure tolerated to ensure on-ratio material. The countdown function will shut down the machine before the material drums are empty, avoiding pump cavitation and the need to re-prime the material pumps. The PHD will also advise of standard maintenance intervals, prompting the operator to check pump lubrication, hydraulic oil, Y-strainer servicing and more.
3. Who is the product made for?

The PHD is used for any application of polyurethane foam or polyurea coatings where the record of the job is desired. When spray foam insulation is installed, a record of the correct processing can be provided to the home or building owner, showing that the material was processed within the requirements of the material manufacturer. Similarly, when spraying polyurea on a roof project a record is recorded and saved, providing peace of mind that the job was sprayed correctly. This technology helps the industry move forward by giving a permanent record of the spray profile that guarantees that the material was applied properly. If you want proof of your performance, the PHD is right for you.
Contact Details
Name: Damien Lardieri
Phone No: 1-732-415-4450
---
PHD Smart Machine from Polyurethane Machinery Corporation