PF-1600 by Polyurethane Machinery Corporation (PMC)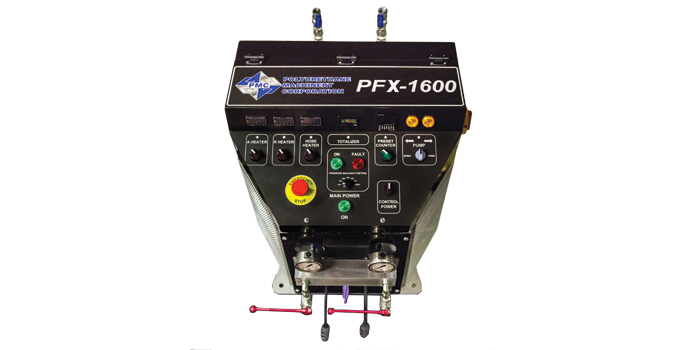 What is it?
What is the product?
The PF-1600 is a pneumatic-drive proportioner designed for residential spray foam application around SPFA-137-General-SPF HP Equipment which states "Size your equipment based on the type of projects you expect to undertake."² They note output of up to 15 lbs./7kg per minute for residential insulation, light commercial and industrial applications.
What makes it unique?

The PF-1600 is specifically designed around SPFA guidelines for residential foam spray. achieving the material flow and temperature needed for residential foam application. In sprayer's parlance, we needed to spray at least an -01 chamber all day long. PMC engineers utilized the most current pneumatic motor design and digitally-controlled heating configurations to achieve and surpass this goal. Requiring just 15-20 scfm @100 psi, the maximum hose length is 310'.
The footprint was also of importance- at just 24"x24"x32" the PF-1600 does not need much space and is built with smaller rig and truck sizes in mind.
The PF-1600 has 4 heat options depending on the requirements of the environment- 6Kw, 7.5Kw, 9Kw and 10.5Kw. The high efficiency hybrid heat configuration and hose heat are controlled digitally to maintain optimum temperature control over the chemical system.
Who is the product made for?
The PF-1600 is designed for the adept SFP contractor as a production-worthy insulation spray proportioner that is perfect for entry-level application as well as being an economical 2nd rig addition. Spray-applied polyurethane foam insulation (SPF) has become the material of choice when it comes to building envelope technology and efficiency. Dramatic growth has been seen in the USA residential insulation market. According to the United States Census Bureau, the first 2 quarters of 2018 showed an 8% increase over 2017¹.. Profitability relies on efficiency in 3 key areas- equipment investment/operation cost, material estimating/cost and application time including getting on and off the jobsite.
The growth noted in the residential housing market is just one example of the increase in SPF application. PMC has the philosophy that for an industry to grow, it needs the right tools at the right time. Product development input is end-user focused, and driven by the best available information from industry associations like the SPFA.
Contact Details
Name: Damian Lardieri
Phone No: (732) 773 5535
---