International Fireproof Technology Inc's Certified Applicator Program (CAP)
International Fireproof Technology Inc's Certified Applicator Program (CAP)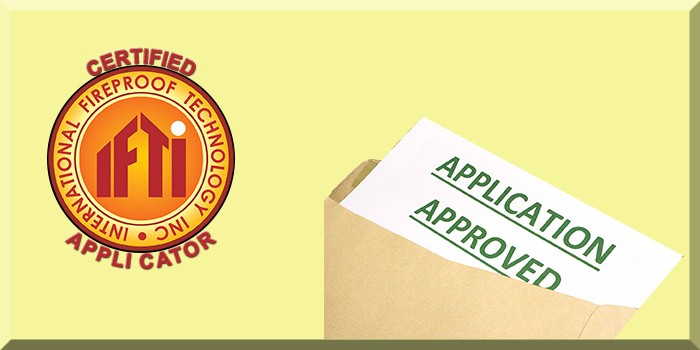 What is it?
The Certified Applicator Program (CAP) is a training and certification program for intumescent coating contractors created by the most knowledgeable intumescent coating experts in the industry. It is designed to give the DC315 coating applicator a complete understanding of DC315 product information, techniques and code compliance. Once certified, the contractor is added to IFTI's list of certified applicators. IFTI receives hundreds of inquiries a month from code officials, fire marshals, architects, contractors and consumers looking for certified applicators of DC315 and SPF in their jurisdiction. IFTI's online interactive CAP applicator map will allow for direct contact between you and our qualified leads. IFTI partners with the CAP DC315 applicators you to grow their business.
Why is it unique?

This is a one of a kind program offered only by IFTI for DC315 contractor installers. IFTI has designed this course to raise the bar on installation, compliance, and field quality assurance of DC315. The course is set up in 4 modules with embedded videos to enhance the learning experience. These tools will provide the applicator with the knowledge and tools to offer the best code compliant solution for protecting SPF insulation to current code standards and turn compliance into a profit opportunity.
Who is it made for?

The CAP is designed for DC315 applicators who wish to set themselves apart from the rest. An educated applicator gets the job, not necessarily the cheapest. Most contractors, building owners, and consumers look highly on an applicator who understand and guides them in the application of a coating to ensure Fire and Life Safety Codes are met. Applicator certification shows extensive due diligence on the part of the applicator. This demonstrates that a CAP applicator takes life safety seriously which provides a tangible measure of assurance to inspectors and AHJ's that the product and installation meet applicable regulatory requirements.
Check out the CAP and become certified today at https://www.painttoprotect.com/ifti-dc315-certified-applicator-certification/

Contact Details
Phone No: 949-975-8588
---
International Fireproof Technology Inc's Certified Applicator Program (CAP)