GREENGUARD Gold Products - Gaco Western
GREENGUARD Gold Products - Gaco Western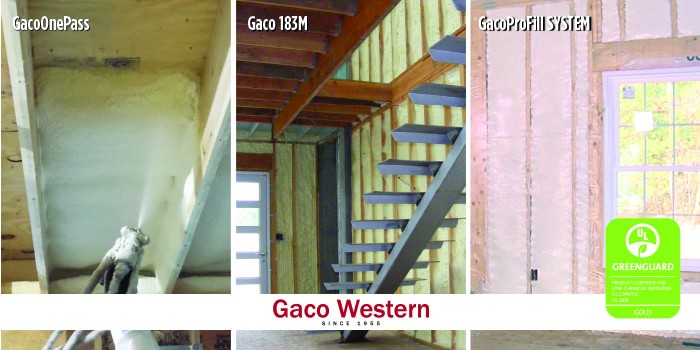 What is it?
GacoOnePass is a 2lb. density closed cell spray polyurethane foam which can be sprayed 5.5" in a single pass, reducing labor costs by 50% or more and offering 20-30% higher yields than standard 2 lb. foams when sprayed in one pass at 5.5" thickness.

GacoProFill open cell polyurethane foam is designed specifically for injection into empty cavities in residential and commercial applications including CMU Block Fill projects, retrofit projects, and may be installed behind a membrane or drywall. Testing in independent laboratories has proven GacoProFill to provide safe 1-Hour re-entry for trades when installed behind a barrier as part of the GacoProFill SYSTEM.

Gaco 183M closed cell foam is approved for use in air barrier systems as an ABAA evaluated material as part of an ABAA evaluated assembly. Gaco 183M is a Class A (Class 1) fire rated foam and is safe to the environment. It meets the requirements of Appendix X for use in attic and crawl spaces without an additional ignition barrier.

Contact Details
Name: Customer Service
Phone No: 877-699-4226
---
GREENGUARD Gold Products - Gaco Western