Gaco Western GacoOnePass®
Gaco Western GacoOnePass®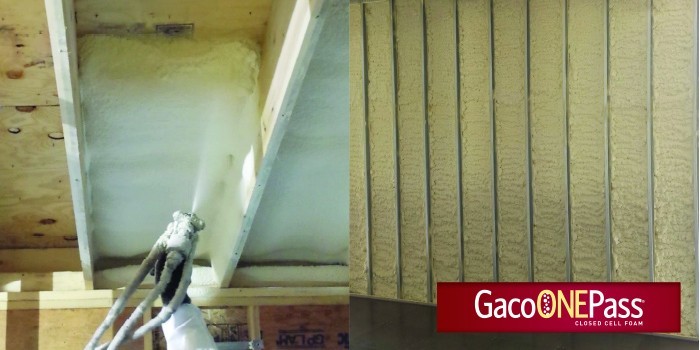 What is it?
GacoOnePass is a 2lb. density closed cell spray polyurethane foam which can be sprayed 5.5" in a single pass, reducing labor costs by 50% or more and offering 20-30% higher yields than standard 2 lb. foams when sprayed in one pass at 5.5" thickness.
What makes it unique?
With the ability to spray in thicker passes, contractors are reporting higher profits using GacoOnePass thanks to substantial labor savings and improved yields. The additional benefit of passing Appendix X without an additional ignition barrier means contractors can save even more time and money because they can skip a step and move on to the next job.
Besides its impressive and profit-boosting sprayability, GacoOnePass is also an extremely durable and environmentally friendly foam. It is thoroughly tested and proven to perform in demanding environments without creating a negative impact on the air around it. It is Greenguard GOLD certified, meeting some of the world's most rigid chemical emissions standards proving it to be a safe, low-emission solution that contributes to healthy interiors for the most air-sensitive occupants. It has been also been deemed an ABAA Evaluated Material and part of an ABAA Evaluated Assembly.
GacoOnePass also meets the US Coast Guard requirement for flotation materials for both bilge and engine room applications and was proven to maintain its buoyant force following immersion in harsh chemicals like oil and fuel.
GacoOnePass meets the requirements for a Class II vapor retarder at just .44".
Who is the product made for?
GacoOnePass is made for contractors and builders.
Call 877-699-4226 or visit
www.gaco.com
to connect with a Gaco Area Manager near you.
Contact Details
Name: Customer Service
Phone No: 877-699-4226
---
Gaco Western GacoOnePass®