Who's in Your Corner?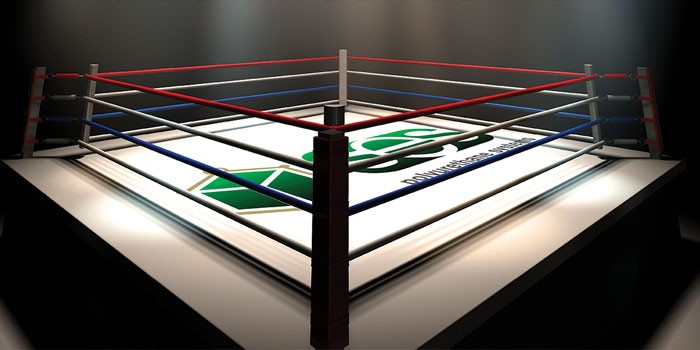 HOUSTON, TX – February 1, 2019 – It's rarely a good idea to go at it alone, and success is seldom achieved solely through individual efforts. In sports, every champion is supported by a team and the same goes for highly successful spray foam contractors. Success in this industry is influenced by numerous factors and those companies who use all of the resources available to them are far more likely to thrive than those who operate without a team. Every spray foam application is a battle against time, weather, and all the challenges we attribute to Murphy's Law.
In laying a foundation for success and in planning for the unforeseeable, SPF contractors should always carefully consider which spray foam supplier they have in their corner. Outlined below are the Seven Rounds defining the right partnership for running a championship business:
ROUND 1: Product
When you look at product performance, you can look to cost, but the true cost is the installed cost. How much did it cost in material to produce the board feet that I am selling? High-yield products obviously end up costing you less to install, and the supplier in your corner has a choice to make:
Do they want to invest in the resources and technology to produce a high-yield product? Or go the cheaper route; selling a cheaper product that requires the contractor to use more product? A good supplier will invest in product development, pushing performance innovation with contractor success as their goal. The end result is cutting-edge spray foam that lowers the overall installed cost of each job, adding more profit per job.
While product yield is important, the most critical decision facing the contractor today is whether to use spray foams that follow the industry accepted Appendix-X fire test or the alternate Oxygen Depletion method. Let's compare the two methods in detail.
In one corner, Appendix-X. In the other corner, Oxygen Depletion.
Appendix-X Approved Spray Foams:
Need no additional coatings, saving time and money by eliminating a costly return trip.

Carry no special building requirements or restrictions.

Require no special safety messages to homeowners.
- Are backed by the supplier and fire safety officials.
Oxygen Depletion Spray Foams:
Require the builder to construct the attic space in a specific way.

Prohibit popular vertical attic access doors, like you might find in a bonus room over a garage
- Require all annular spaces around skylights, can-lights, and any other substrate penetrating installations to be foamed.
- Require all flex duct in the attic to be sprayed with SPF (which voids the flex duct warranty) or have a special controller installed in the attic that requires two professional inspections per year.
- Require special detailed CAUTION signs to alerting the homeowner that no modifications are allowed, and that the attic cannot be used for storage.
Adding to these comparisons, it is vital to note that if a fire starts in an attic that was insulated using the Oxygen Depletion method, and a homeowner or firefighter opens the attic door, oxygen can flow into the attic to feed the fire. The result could be a violent backdraft. On the other hand, there is documented evidence of Appendix-X approved foams preventing fires from spreading into the insulated space, preventing further property damage, and allowing occupants such as an HVAC tech or plumber more time to escape.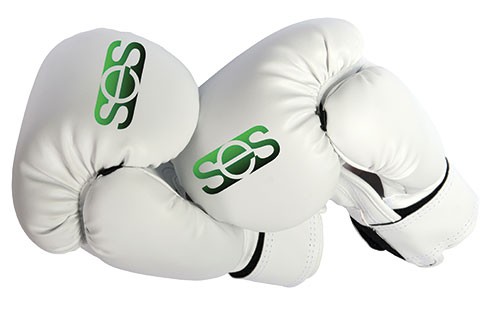 Once again, who you choose to have in your corner is critical. There are SPF products available today that pass the Appendix-X test uncoated, minimizing the cost to the contractor and the potential liability associated with products that require specific attic configurations. The right supplier develops their products with the safety of the end user and the success of the installer in mind.
ROUND 2: Training
Training is another aspect of being properly prepared for the market. Is the supplier in your corner investing in the personnel to support your company, insuring you improve your strength in the marketplace? Technical support in the form of properly trained field personnel can be an excellent team member in your corner. The ability to have someone visit your facility and ensure your equipment is working properly help you get maximum performance from the product you are purchasing can be a game-changer. You want field personnel in your corner who have the ability to transfer their knowledge to your crews so you can have maximum performance day-in and day-out. When choosing your supplier, strong consideration should be made regarding the proper investment in the resources you want in your corner.
ROUND 3: Business Tools
We all need to have the proper business tools in our corner. There are business management programs that can support everything from bids to inventory. These tools allow you to track your business vision as it comes to fruition and helps you to verify that you're earning your planned profit. The supplier you have in your corner should not only be comfortable with you having the proper information, they should be pushing you to check the performance of their product and your business. The entire team in your corner should have a symbiotic relationship with you. Your success should be critical to those in your corner and therefore supporting you in getting the best business tools. Introducing you to the best practices should always be a priority of your supplier.
ROUND 4: Quality Installs
You are judged in your marketplace by your quality and your performance. Those in your corner should be interested in you providing the best installation possible. Is your supplier critical of the actual installation? Your supplier should be part of your team and should be involved in the discussions regarding how you enter the ring and your performance in the ring. These conversations can be difficult, but you want someone with the knowledge and ability to have these conversations with you and they should have the ability to supply you with what you need to improve your performance. These discussions should include the performance of the product, with your supplier wanting you to get the maximum performance out of teach set of material. One question we must all ask ourselves is, "Are we willing to be pushed to the next level?" Your supplier should be encouraging you to improve, to work to the maximum and not accept mediocrity.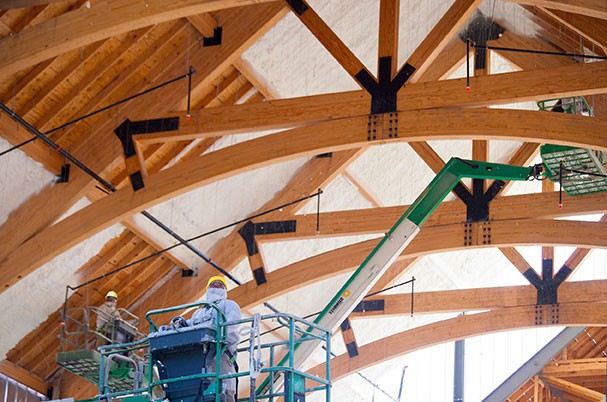 "Getting to the "Next Level" means pushing yourself to new heights you might not have thought possible (literally, in some cases).
Photo BUILD-Marketing / Sheldon Consulting
ROUND 5: Marketing
Is your supplier marketing itself as the best supplier, and are they willing to market you as the best fighter? Sometimes marketing creates an atmosphere of competing goals. Is the product more important than the installer? Are the gloves more important than the boxer? Obviously you want your customers to know that you are using a credible product, but you also want them to understand that it is your expertise that is the critical component of the installation. Our industry has struggled with this during the introduction of our technology. Initially our challenge was to earn acceptance in the marketplace. The market has now matured and we are all beneficiaries of our customers' current knowledge level concerning spray polyurethane foam. We as individual contractors must now market our companies and our competence. Is the supplier in your corner willing to support you with individualized advertising and marketing materials? Is your corner support team willing to sit in the background and let you accept the belt and the glory associated with the investment they made in your company? A champion should rise on the shoulders of the team and every team member should be proud to be a part of your success.
ROUND 6: Leads
As you prepare for the fight in your local territory the more information you have regarding the activity in your area is critical. The sales leads your supplier gives you are strong support and acknowledge the supplier's confidence in you and your business. You want your corner to support you with leads, but the best lead is the lead generated from your personalized marketing program; the lead that is based on your company and only goes to you. Marketing that boosts your company and your brand ahead of the supplier puts you in a better position in the fight.
ROUND 7: Teamwork
As the fight moves into the later rounds you need your corner to be able to stand with you over the long haul. You need your corner to have invested in your success and be willing to stand with you and not look to move on to the next fighter. Is your supplier willing to limit the number of fighters he has in one ring? Is your corner willing to focus on you and your business? Here is where the teamwork meets the road so to speak. Talk to other fighters your supplier has supported and discuss the support they have experienced. Do their customers stick with them? Are they sole-supplied? In this case, history is a good indicator of the future.
SES invests heavily in our contractors and is proud of our retention rate and the positive feedback we receive regarding the support we provide. SES has invested in developing the best technology available to the industry, and has invested in hiring some of the top technical personnel in the industry to support our contractors. SES has invested heavily with BUILD-Marketing to support our contractors with individualized marketing support. SES is a leader in the spray foam market and has made inroads that cannot be ignored by the contractor who wants to rise above the competition. Does the right team support your business? SES has a proven track record of improving companies' performance and increasing profits and growth rates. It's time for you to hold the belt of a champion. •
Direct any questions about getting the right supplier in your corner to SES Foam:
Phone: 855-335-2440 / 713-239-0252
Website: www.sesfoam.com
*Spray Foam Magazine does not take editorial positions on particular issues; individual contributions to the magazine express the opinions of discrete authors unless explicitly labeled or otherwise stated. The inclusion of a particular piece in the magazine does not mean that individual staff members or editors concur with the editorial positions represented therein.

Contact Details
Name: SES Foam
Email: Email Us
Phone No: 855-335-2440
---