When It Comes To Spray Foam, Certification Matters
When It Comes To Spray Foam, Certification Matters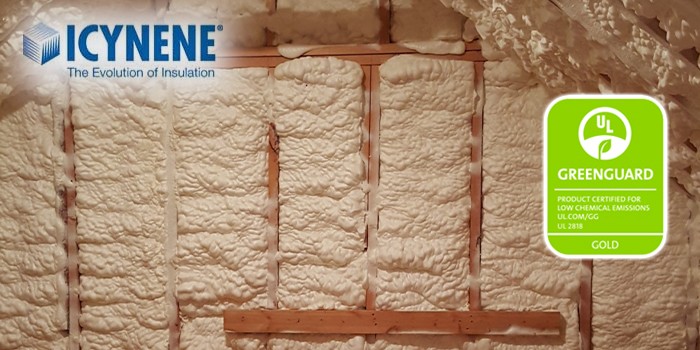 MISSISSAUGA, ON – September 13, 2016 – The Underwriters Laboratories (UL) is an independent, global, safety company that promotes safe products and practices across myriad industries. They have created the UL Environment division to help support the growth and development of environmentally preferable products, services, and organizations. A component of that mission is the creation of the GREENGUARD certification program. The certification program is designed "to help companies achieve their unique sustainability goals, while also helping purchasers, retailers, governments, and consumers find healthier, more sustainable products they can trust."
In order to do this, the GREENGUARD certification program establishes a rating system for products and materials (including furniture, lighting, flooring, and spray polyurethane foam insulation) that are designed for interior use in order to ensure that the products have low chemical emissions and improve the quality of the air in which they are used. According to GREENGUARD information, "All certified products must meet stringent emissions standards based on established chemical exposure criteria."
RELATED Lapolla Industries Introduces FOAM-LOK™ FLX 500-EM Spray Polyurethane Foam for Insulation Applications, Hurricane Sandy Survivor Gets a New #HurricaneStrong Home , Covestro LLC receives US2020's 2016 STEM Mentoring Award for 'Excellence in Corporate Culture'
Stringent Testing Before Certified Green
This process is very thorough. Once a manufacturer decides that they want to pursue GREENGUARD certification, they must undergo a battery of tests including manufacturing reviews, compliance evaluations, and test groups before any certification compliance tests are even performed. Then, there are different levels of certification to which a product can be tested under the GREENGUARD system.
If a product is labeled with GREENGUARD certification, it means that product has been stringently tested and has been found to have acceptable levels – or no trace of – over 360 known volatile organic chemicals (VOCs).
A product that carries the GREENGUARD Gold certification, however, has been found to be in compliance not only for those 360 VOCs, with an emphasis on formaldehyde, but also the product complies with one of the most exacting environmental laws in the nation. GREENGUARD Gold-certified products must be in compliance with the California Department of Public Health's "Standard Method for the Testing and Evaluation of Volatile Organic Chemical Emissions from Indoor Sources Using Environmental Chambers, Version 1.1 (2010), CA Section 01350."
Established for spaces such as schools, daycare facilities, and other sensitive environments, GREENGUARD Gold certification is only achieved by a select few products. Given the exacting nature of the tests, and the trusted reputation of the UL, the GREENGUARD Gold certification is recognized by the Collaborative for High Performance Schools (CHPS) and Leadership in Energy and Environmental Design (LEED). This means that specifiers and architects can more easily locate the necessary products to fulfill their project requirements.
Environmentally Sensitive Spray Polyurethane Performance You Can Trust
This also means that consumers searching for environmentally friendly products can trust the UL endorsement. In fact, a 2014 consumer Green affinity study from the Shelton Group suggests that around 70 percent of Americans will search for greener products. The GREENGUARD Gold certification allows design professionals and specifiers to confidently create green, comfortable, and more energy-efficient buildings.
Icynene, the pioneer of modern open-cell spray foam insulation solutions, has been awarded GREENGUARD Gold certification by UL Environment for its high-performance, ultra-low-VOC, open-cell spray foam insulation – Icynene Classic Max. It is believed to be the first open-cell spray foam insulation product in the United States to achieve this certification.
The GREENGUARD Gold certification for Icynene Classic Max comes after the spray foam manufacturer was awarded a GREENGUARD Gold certification by UL Environment for its high-R-value, ultra-low-VOC, closed-cell spray foam innovation, Icynene ProSeal in March 2016. The certifications for both spray foam products contribute valuable points in established green building programs, and satisfy strict local building code or ordinance criteria, as well as meet indoor air quality requirements.
"GREENGUARD Gold certified building materials are recognized, referenced, and preferred by more than 400 federal purchasers, retailers, green building rating tools, and building codes from around the world. Icynene Classic Max is understood to be the first open-cell spray foam to be awarded the certification," says Icynene VP Engineering, Paul Duffy. "The recognition from UL Environment is testament to Icynene's commitment to innovation and delivering responsible, high-performance insulation materials."
Icynene Classic Max is an ultra-low-VOC, one-and-done, open-cell spray foam innovation that eliminates the need for an ignition barrier in unvented attic assemblies in residential construction. Icynene Classic Max features an R-Value of 3.7 per inch. It also features the UL Environment GREENGUARD Gold certification – which means it delivers both performance and environmental value – critical factors to consider when insulating your home or office space.
Contact Details
Name: Anthony Naimo
Email: Email Us
Phone No: 855-622-7070
Disqus website name not provided.
When It Comes To Spray Foam, Certification Matters