Unlocking Options for Architects
Unlocking Options for Architects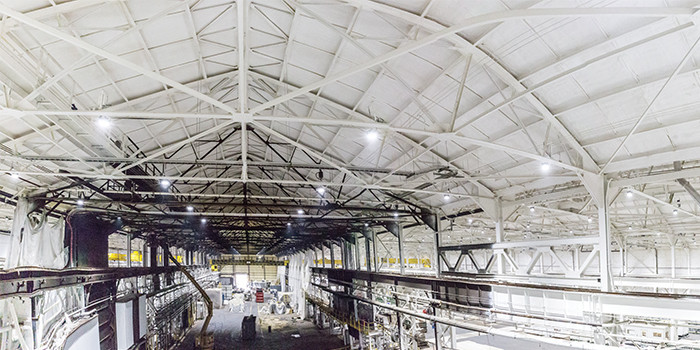 Spray Foam Magazine – Late Summer 2021 – Keeping commercial construction projects on schedule may require architects and engineers to entertain not in-kind product substitutions for common building materials. Exposing more architects to the benefits of spray foam insulation and simplifying the substitution process positions the SPF industry to benefit in the long term. This article provides an overview of specifications, product testing, and certification requirements commonly encountered in the commercial construction market.
Many energy-conscious architects already specify open- and closed-cell SPF products for the commercial construction market. Both product types improve the energy efficiency and indoor air quality of commercial buildings by creating a seamless, air-impermeable barrier that adapts to any design, shape, or substrate. However, due to the physical property differences, product type-specific applications have evolved over time that take full advantage of certain attributes–such as sound attenuation with open-cell and exterior applications with closed-cell. SPF offers some advantages when substituted for traditional insulation in these respective areas.
Architects often specify that wall or ceiling assemblies meet Sound Transmission Class (STC) requirements. An STC is a single number rating (0 to 100) of how well a partition attenuates airborne sound. A higher number indicates more effective sound insulation than a lower number. The type, thickness, and number of layers of drywall contribute the most to an STC value, but adding any insulation helps reach specified STC values. The results of sound tested partition systems often show that substituting open-cell SPF (ocSPF) for fibrous insulation does not detract from the STC of a partition. In some cases, ocSPF achieves an increase of 1 to 2 STC points due to the air sealing feature, which essentially eliminates paths for sound waves to travel.
Closed-cell SPF (ccSPF), with its trapped thermal insulating gas and closed-cell structure, delivers higher R-values per inch as well as class 2 vapor retarder properties. The mechanical and physical properties of ccSPF allow for its use on the exterior of a building as continuous insulation. In this application, ccSPF provides four levels of protection–thermal, moisture, air, and vapor. The multifunctional performance of ccSPF provides a complete environmental separator in one product for a cost-effective, high-performance wall system. By eliminating other wall system components, installing ccSPF on the exterior of a wall can reduce the total cost per square foot. Figure 2 uses data from the 2020 R.S. Means Building Construction Cost Data to compare the total cost of CMU and steel framed wall systems.
Substituting SPF in exterior commercial wall assemblies often requires compliance with NFPA 285. NFPA 285 is a standard test method for the evaluation of fire propagation characteristics of exterior non-load-bearing wall assemblies containing combustible components. The test provides a method for determining the flammability of wall systems that contain combustible components like SPF. Passing this live fire test and gaining acceptance demonstrates that specifying SPF does not mean compromising fire safety. Generally, any exterior wall more than one story that includes SPF requires NFPA 285 compliance.
Spray foam manufacturers continue to certify wall assemblies with SPF in accordance with NFPA 285. NFPA 285 does not evaluate the performance of any component. It is a complete assembly test. If even minor deviations from the as-tested assembly are desired, new testing may be required. Deviations include spray foam products within and across manufacturers. Spray foam manufacturers maintain wall assembly guides to help architects specify SPF in exterior wall assemblies that require NFPA 285 compliance. These guides show that NFPA 285 compliance rarely, if ever, restricts the use of open- or closed-cell SPF installed in the wall cavity. Exterior-applied closed-cell with combustible cladding types like aluminum composite panels creates potential design limitations for architects.
Carlisle Spray Foam Insulation (CSFI), along with other Carlisle Construction Materials brands including Hunter Panels, Petersen Aluminum Corporation, and Carlisle Coatings & Waterproofing, has partnered with architects to certify new wall designs, establishing one of the most extensive portfolios of NFPA 285 compliant wall assemblies from a single source and ensuring material compatibility and total system performance. SealTite™ PRO Closed-Cell became the first SPF product that passed the requirements of NFPA 285 when installed behind PAC-Clad® Aluminum Cladding, unlocking completely new SPF design options for architects.

CSFI, together with Hunter Panels, a manufacturer of polyisocyanurate rigid board insulation products, designed an NFPA 285 compliant wall system that eliminates the need for ½" or greater gypsum sheathing. Applying SealTite PRO Closed-Cell in the stud cavity directly to Hunter Xci CG (Class A) exterior rigid board insulation gives architects a thinner wall assembly with high R-value, no thermal bridging, and an integrated weather-resistant barrier. This also eliminates a building material and installation step, reducing cost.
NFPA 285 focuses on how a fire propagates on the exterior side of non-load-bearing walls. NFPA 285 does not attempt to assign any specific fire rating. Architects often design and specify load-bearing and non-load-bearing commercial wall, floor, and ceiling assemblies with hourly fire rating requirements.
When an hourly fire rating is required, the assemblies must be tested to ANSI/UL 263 (Standard for Safety of Fire Tests of Building Construction Materials) or ASTM E119 (Standard Test Methods for Fire Tests of Building Construction and Materials). ASTM and UL developed these tests to simulate the conditions of a building fire to measure the duration an assembly maintains its structural integrity. In these live fire tests, the time noted at failure confers an hourly rating to the design. Individual building materials, including SPF, have no inherent fire rating.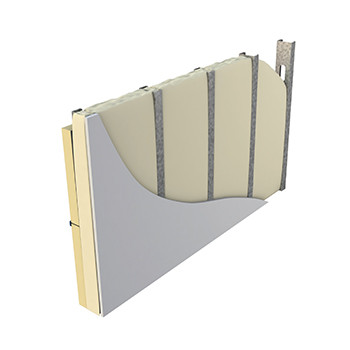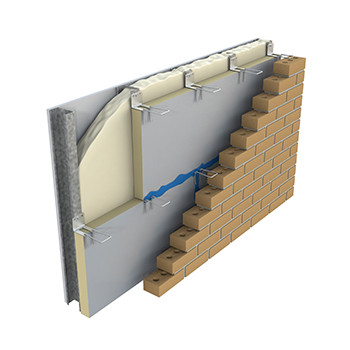 TOP: closed-cell SPF in the stud cavity added directly to Hunter Xci CG exterior board insulation. BOTTOM: The liquid applied seam seal creates an integrated air and water resistive barrier.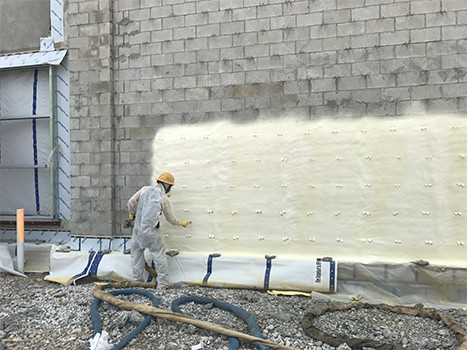 Exterior-applied closed-cell with combustible cladding types like aluminum composite panels creates potential design limitations for architects.
Testing SPF to UL 263 or ASTM E119 assures engineers and architects that substituting SPF for fibrous insulation creates no deleterious safety effects and maintains the required hourly rating for the specified design. Consult your spray foam manufacturer for evaluated hourly rated assemblies or work with architects to specify assemblies listed by UL or FM that contain SPF. Substituting SPF products from different manufacturers may not be possible in these circumstances.
With the desire to keep construction projects on schedule, architects are actively seeking out product substitutions. Educating architects about the features and benefits of SPF and performing the required product testing and certification to make transition as easy as possible remains a top priority for spray foam manufacturers. These substitution opportunities give architects valuable initial exposure to SPF and allow them to experience firsthand the energy efficiency improvements possible. Additionally, the ease of specifying will only help to increase an architect's preference for spray foam in future projects.
Direct any questions you have about statements made in this article to Carlisle Spray Foam Insulation: 844-922-2355
*Spray Foam Magazine does not take editorial positions on particular issues; individual contributions to the magazine express the opinions of discrete authors unless explicitly labeled or otherwise stated. The inclusion of a particular piece in the magazine does not mean that individual staff members or editors concur with the editorial positions represented therein.

---
Unlocking Options for Architects