UMass Partners with Mass Energy Lab Insulation to Test Job Site Spray Polyurethane Foam Safety
UMass Partners with Mass Energy Lab Insulation to Test Job Site Spray Polyurethane Foam Safety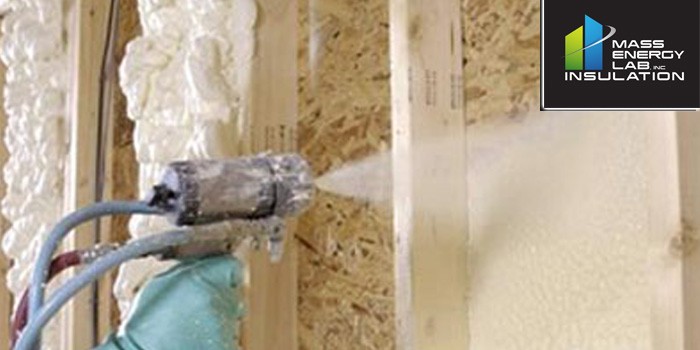 BROOKLINE, MA
– June 8, 2016 – Researchers at University of Massachusetts Lowell are conducting a study to evaluate exposures associated with the use of products that contain reacting chemicals (such as isocyanates and epoxies) and controls that reduce exposures to these chemicals in construction during the installation of actual spray foam insulation installs in homes across Massachusetts.
Anila Bello, ScD, MSc, a Research Occupational & Environmental Health Scientist at UMass Lowell's College of Health Sciences said, "We are looking forward to the partnership with Mass Energy Lab Insulation as they are a widely regarded insulation company, here in Massachusetts and have given us unprecedented access to numerous job sites and insulation personnel, to assess exposures to and develop recommendations for safer work practices for installers, bystanders and occupants.
This unique study is headed by Principal Investigators Dhimiter Bello, ScD and Susan Woskie, PhD. "SPF is an excellent insulating material. The chemistry and technology of spray foams has improved considerably over the years and so have industry best practices, adherence to which enable safe foam applications. Field exposure data and field observations to date are limited. Good data will allow us to make informed decisions on best work practices and controls, so that we can reap the benefits of the technology, while keeping everyone – the installer, the helpers, and the homeowners – safe. This partnership with Mass Energy Lab is an important mechanism towards reaching these goals and we value their pro-safety culture."
"The study is federally funded and we do not analyze anything else not related to the work, including drugs or drug by-products. We're researching so that we can better understand where and how exposures occur; and how controls can be engineered so that these tools and equipment can be made safer for health. Having a forward thinking insulation company like Mass Energy Lab as our partner has been very beneficial. Our collaboration is built on trust and on a mutual long-term vision to make a positive impact on the spray foam industry as a whole," Dhimiter further added.
"The two most important stakeholders in any company are their clients and employees. Knowing that we can give our customers and installers a validation that when we install spray foam insulation in their homes, we're bringing a valid, science backed paradigm, is our top priority with this partnership. We strive to be the expert on insulation and it's a privilege to work with the UMass team that has long been the authority on studies like this," stated Edward Liu, Mass Energy Lab's Operations Engineer.
Mass Energy Lab Chief Field Engineer Josue Valdez said, "The insulation industry is one of the most scrutinized and regulated industries and the SPF insulation market is growing by 7.6% annually so being able to have UMass come to our job sites, build such great trust with our install team, observe our installers as they work, test samples of spray foam insulation in our client's homes, is unbelievable because insulation workers come to work everyday and get exposed to various chemicals and resins and use a variety of equipment to protect themselves from it. We all want to know that are we in a safe workplace and this is part of Mass Energy Lab's commitment to working together to create a safer work environment for our spray foam installers. It's about working together to create a seamless, safe insulation install."
Contact Details
Name: Edward Liu
Email: Email Us
Phone No: 617-902-2744
UMass Partners with Mass Energy Lab Insulation to Test Job Site Spray Polyurethane Foam Safety