Tying The Knot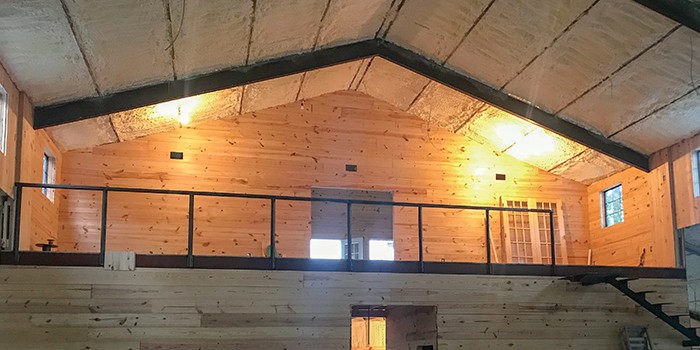 SIMMS, TX – June, 2018 – Nestled in Simms, Texas, is Tree Haven, a wedding and event venue that provides a beautiful space in the woods for a bride and groom who dream of a rustic wedding to escape the city and embrace the country. The structure, which consists of a chapel and a bridal suite, was recently constructed and needed an insulation material that could withstand the hot Texas temperatures to keep guests comfortable during the ceremonies and events that will take place on the property. And what's better than spray polyurethane foam to fulfill that role? That's right, nothing!
The Lach-On crew applied Capthane Foamto the walls and ceiling for optimal insulation.
After the facility's frame was built and windows were in place, the owner of Tree Haven brought in spray foam contractor, Lach-On Construction LLC. (LOC), to do the job. The four-man crew tackled the chapel first, but not before covering all of the floors, beams, and windows to prevent any overspray damage. The LOC team went onto spray 5.5 inches of Capthane 0.5 lb. open-cell foam to the ceiling using a Graco Fusion AP gun and a Graco E-30 Reactor. Next, they sprayed four inches of the Capthane foam to the 20-foot walls using a Spray Foam Equipment & Manufacturing BOSS gun and Graco E-30 Reactor. In order to reach the tall heights, a Genie scissor lift was utilized with a Guardian safety harnesses for protection. During application, each of the crew members wore Allegro fresh air systems, Tyvek suits, and gloves.
"Since the structure was made of 26-gauge metal R-Panels, spray foam was the only option in order to fit to the structure and fill in any crevices needed to be insulated, save the client money on electric bills, and maintain climate control," explains Clint Lachowsky, owner of LOC.
Moving onto the bridal suite, as the structure of the suite is on stilts (like a tree house) the crew applied one inch of Capthane 2 lb. closed-cell foam to the underside of the building to complete the job. The project was finished in only four and a half days, and the client was very pleased with the results. Tree Haven will soon be open for business. Who knew spray foam and marriage would ever have anything in common!
For more information on Lach-On Construction, go to www.lachonllc.com.

---