Touch 'n Seal Launches New Air Sealant
Touch 'n Seal Launches New Air Sealant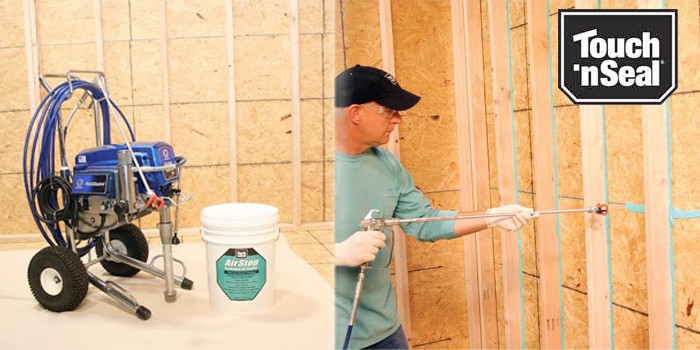 FENTON, MO – July 11, 2016 – Convenience Products, the manufacturer of Touch 'n Seal polyurethane foam sealants and insulation, has developed AirStop Elastomeric Air Sealant, a water-based solution for meeting the low air exchange rates specified in the most recent energy codes.
AirStop is sold in pails and can be applied with a standard airless sprayer or bulk-loaded sausage guns to cover gaps, penetrations and joints such as along headers and footers, and between exterior sheathing and studs. It is tack-free in 4 hours and completely cured in 18 hours, forming a permanently flexible elastomeric seal with an easily identifiable green color. AirStop can also be used to create a compressible gasket-like seal between interior stud faces and drywall. Equipment and tools are cleaned with only water.
"We have continually received requests for a fast curing, flexible, water-based product that can enable builders to achieve the lower air exchange rates required by the latest energy codes," said Touch 'n Seal Marketing Manager, Jonathan Fore. "Touch 'n Seal AirStop Elastomeric Sealant provides an efficient solution for air-sealing when fiberglass or other porous insulation is used. We are proud to be able to introduce AirStop as the code requirements for air infiltration become more stringent with each new version."
RELATED Fomo Products, Inc. Unveils Handi-Foam® Window & Door , Fomo Products Celebrates 40 Years as a Leader in Spray Foam, Sealants and Adhesives, Touch 'N Seal Reveals How Low-Pressure Applications Can Transform a Spray Foam Business
Touch 'n Seal AirStop Elastomeric Sealant is the homebuilder's answer for creating tighter, more energy-efficient homes.
About Touch 'n Seal: Convenience Products, the manufacturer of Touch 'n Seal products, is headquartered in St. Louis, Missouri. Touch 'n Seal insulating foams and sealants are the benchmark for performance in commercial and industrial building and maintenance, OEM manufacturing and specialty applications. A full line of one and two-component spray foams and adhesives are available, including Low Pressure Window & Door Foam, Drywall Panel Adhesives, Heating Systems and Accessories, Two-Component, Disposable Units, Mining Specialty Units and One-Component Disposable Cylinders. Spray foam is available from 15-board feet kits to 120-gallon refill systems. One-component straw and gun foam available in 12 to 30.5 oz. aerosol cans. For more information, please visit www.touch-n-seal.com.
Contact Details
Name: Stephanie Perry
Email: Email Us
Phone No: 855-336-9555
Touch 'n Seal Launches New Air Sealant