Titan Introduces Low Pressure Spray Gun
Titan Introduces Low Pressure Spray Gun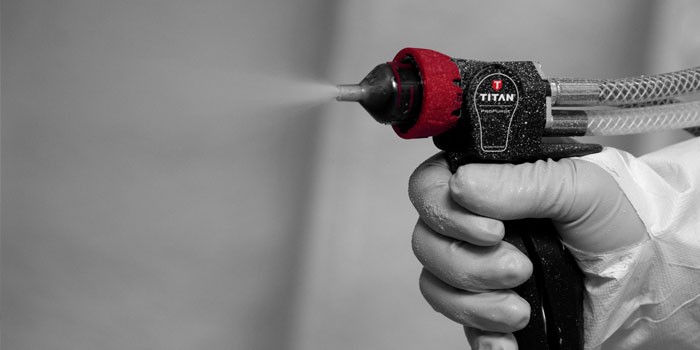 MINNEAPOLIS, MN — September 12, 2018 — Titan™ is proud to introduce a new innovative spray gun – the PROPURGE™ low pressure spray foam gun. It features new technology that enables high production, operating at double the speed of other low pressure guns and applying up to 15 pounds of foam per minute. The PROPURGE gun's Maze Nozzle™ is a highly efficient static mixer that maximizes yield and ensures high quality foam application every time.
The PROPURGE features an air purge system that allows operators to spray longer with multiple trigger pulls, maximizing production by efficiently atomizing chemical for an even and consistent fan pattern. After every trigger pull, it uses air to purge each chemical port, completely clearing the system. This increases nozzle life by up to five times when compared to competitive nozzles.

The PROPURGE works best with Titan's Helix LP proportioner, but it is compatible with all low pressure spray foam systems. It increases productivity for contractors by eliminating time-consuming maintenance and expensive rebuilds often associated with impingement mix guns.

Using the low pressure PROPURGE gun is as easy as connecting the hoses and pulling the trigger – no adjustments are required. A quick-change system makes removing the Maze Nozzle a simple twist that minimizes interruptions. The PROPURGE gun and Maze Nozzle system eliminates time-consuming job site maintenance associated with crossovers. The PROPURGE gun is also highly maneuverable with built-in swivels and a comfortable grip with a trigger lock, so contractors can spray longer with less fatigue.

Decreased overspray and consistent mix from low pressure static mixing systems is driving shorter re-occupancy times – as low as one hour instead of 24 hours with high pressure systems (consult foam manufacturers for specific low pressure re-occupancy times). With low pressure, the air is safer for both contractors working in the space and the building's occupants. In addition, spraying at low pressure reduces the risk of harmful chemical injection for operators, should unintended contact be made with the spray pattern.

"The PROPURGE gun is changing minds about low pressure spraying," said Chuck Flower, worldwide product manager for Titan. "When combined with Titan's Helix LP low pressure proportioner, it can increase productivity two-fold and it's safer and easier to use than high pressure systems."

The Titan PROPURGE is available in the U.S. and Canada at professional equipment and industrial supply retailers. Visit www.titantool.com for more information.

Contact Details
Name:
Email: Email Us
Phone No: 844-458-1215
---
Titan Introduces Low Pressure Spray Gun