The Perfect Pair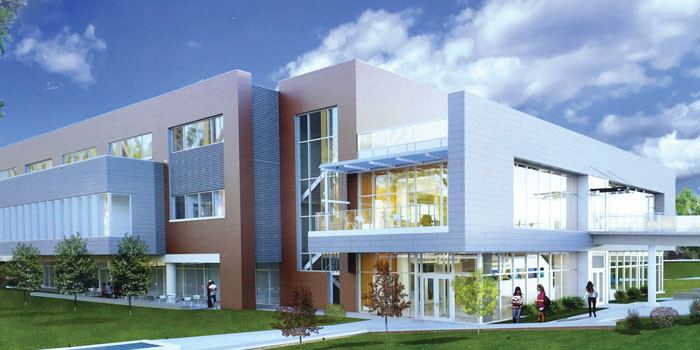 Spray Foam Magazine – Winter 2020 – Spray polyurethane foam and coatings are not usually associated with "eye-catching design." In fact, the pair are usually covered by some building material or applied on a roof where few people will ever see it. With the numerous benefits and cost-effective solutions SPF provides, you'd think they get a little more love.
In this story, a "simple" coating is the star of the show as it saves a new building's design. Spray-Tec, Inc. is a commercial roofing and insulation company located in Shelbyville, Kentucky (10-15 miles outside of Louisville, Kentucky). They specialize in spray applications—spray polyurethane foam and elastomeric coatings—for commercial, industrial, and institutional buildings.
In 2017, Spray-Tec was awarded a contract to insulate the newly constructed Bluegrass Community and Technical College (BCTC) in Lexington, Kentucky.
Spray-Tec crews spent nearly three weeks on the campus applying a spray foam air barrier on the building's exterior.
First, they installed BASF Max Flash (caulk) at all applicable doors, windows, control joints, and parapets per ABAA requirements. Performing labor intensive/meticulous details like these can prove difficult on a construction site where various trades must work in conjunction with each other. Spray-Tec crew members had to take an extra step to mask/prepare the site for the application of spray foam.
The crew began spraying 1.25 inches of Icynene Pro-Seal closed-cell spray polyurethane foam on the building's exterior wall cavities—approximately 28,000 sq.ft.—providing R-8 insulation value.

From left to right: The BCTC construction gets off to a great start; The crew spraying Icynene Pro-Seal closed-cell foam on the building's exterior; they then applied DC 315 intumescent coating to meet the required fire performance of aluminum cladding in lieu of brick; the initial rendering of the Bluegrass Community and Technical College.
Building and fire rating codes allow spray foam to "stand alone" in these applications when covered with a thicker building material such as brick. However, the architectural firm overseeing the project, Lexington-based Omni Architects, specified metal panels as part of the college's design.
The panels would not provide the required fire protection of spray foam without a thermal barrier coating.
Enter: International Fireproofing Technology Inc. (ITFI). Spray-Tec turned to IFTI for their DC315 intumescent coating to meet the required fire performance (NFPA 285) with aluminum cladding in lieu of brick.
In the event of a fire, intumescent coatings swell and become an insulating layer protecting the underlying spray foam from heat and flames. When used in continuous insulation applications the DC315 coating prevents flames from traveling vertically or horizontally over the surface of the combustible spray foam.
Working with IFTI for a coatings solution is a "no-brainer," according to the Spray-Tec Team. They go on to say, "Spray-Tec has always had a good experience working with International Fireproof Technology products."
Lead Estimator, Anthony Palmer, remarks that the company's performance is second to none: "Delivery times are consistently met, products are correctly labeled, and we have never opened a bad batch."
Quin Heisler, Project Manager on site at BCTC, comments, "DC315 sprays well, has good coverage and does not put a strain on the equipment. We love working with it."
The crew took to spraying DC315 on approximately 13,000 sq.ft. (the areas of the building that called for metal panels) at 24 wet mils over the exposed spray foam. Because this was an ABAA project, three different inspections were required; at 5 percent, 50 percent, and 95 percent completion. This project passed with flying colors and ended with a new building up to code, a happy customer, and a job well-done.
"The standards are raised on public projects like this and you must adapt to whatever the project calls for...quickly, efficiently and professionally. Thankfully, we have some great options when it comes to quality coating products. Getting the customer what they want, or need is our top priority as a contractor and we value manufacturers who work with us to accomplish that goal," says Spray-Tec Operations Assistant, Haley Jordan.
Spray-Tec is a DC315 Certified Applicator and has been woman-owned and family-run for 30 years.

---
Disqus website name not provided.