The Men Behind the Empire
The Men Behind the Empire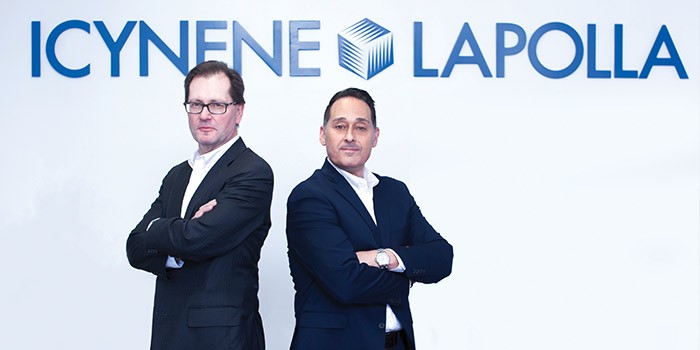 HOUSTON, TX – May 3, 2018 – Big things are happening in the spray foam industry. If you haven't heard about Icynene and Lapolla banding together, then you're surely not up to speed on current events! Not to worry though, here's the 411 you need to know. With the industry arguably reaching a tipping point for mainstream use and acceptance by consumers and builders in the residential and commercial sectors while continuing to strengthen globally, the level of opportunity has increased across the board, which lead to these two long-standing, major manufacturing players to join forces under one umbrella: Icynene-Lapolla.
This merger entails the coming together of industry experts in several fields such as product development and research, sales and technical support, and marketing, amassing the existing brand recognition from both companies to generate a comprehensive, high-performance suite of insulation and roofing technology. Spray Foam Magazine recently caught up with the two men that brought this merger to fruition, Icynene's President and CEO Mark Sarvary and Lapolla's President Doug Kramer, to gain a better understanding Icynene-Lapolla's backbone and its plans for the future.
Icynene-Lapolla places a high premium on their customers' success and will look at all of the ways that they can enhance the contractor's profits through value-adds.
Mark points out that it all began with a shared vision of recognition that the industry still has ample room for growth.
"Since our initial discussions about the possibility of joining [Icynene and Lapolla], Doug and I realized we had very similar views on the potential for the combination," notes Mark. "We both believed that, together, we would provide something truly unique in the industry. Although SPF is already a large industry, it is still only at the beginning of achieving its full potential. The complementary strengths of the two companies together would accelerate the achievement of that potential."
As Icynene was the pioneer in open-cell technology decades ago and Lapolla was the first to globally commercialize a closed-cell HFO product, together, they understand that technology advancements are at the core of the industry's success and have new products and developments in the works that can be expected as a result from this merger.
"With the consolidation of two industry leaders, both trailblazers of technology, we have set our expectations at a very high level," proclaims Doug. "Both companies formulated in a very different way. Once we both had the chance to 'look under the tent,' ideas for future innovation quickly began to flow. Both companies were already innovating, but now the alternatives seem unlimited."But what does this mean for the contractor? As a strong unified structure, Icynene-Lapolla confirms that together their main goal is to ensure an optimized support for customers. This aim will cross numerous parts of business operations including superior products, customer service, sales support, and most importantly, technical service. Both Icynene and Lapolla have placed a high premium on their customers' success and are looking at all of the ways that they can enhance the contractor's profits through value-adds like free equipment maintenance and parts. Each customer will have a salesman and technical service representative for daily support.
Icynene-Lapolla headquarters are in Houston, Texas. They are also maintaining Canadian offices and a manufacturing facility in Mississauga in Ontario.


Their recipe for success stems from Icynene-Lapolla's broad portfolio of constantly improving products coupled with an excellent nationwide team of experts that help Icynene-Lapolla's contractor partners grow the penetration of SPF, and thus grow their businesses, according to Mark. With vast resources and double the institutional knowledge, it can be said that bigger is definitely better.
"We have complementary skill sets and a shared commitment to achieving the full potential of Icynene-Lapolla by ensuring the success of our dealers and contractors. It also helps that we like working together!" lightheartedly explains Mark.
Although both of the men will now be leading the empire, both Mark and Doug have not lost sight of their roles and objectives at Icynene and Lapolla.
"With the consolidation of two industry leaders, both trailblazers of technology, we have set our expectations at a very high level."
One of the biggest goals of this leading entity is to augment and enhance the products that distributors, architects, contractors, and building owners have grown to trust all over the years.
Rather than eliminating one or both company names for product lines, Icynene and Lapolla opted to maintain their original branding within each major company to reduce any confusion among contractors. The tried-and-true products the industry relies on will remain available and retain their original names for easy identification but with the Icynene-Lapolla merger, the aim will be to augment and enhance these products. Talk about a win-win situation!
"I have never been more excited about the future of our company, the state of the industry, and the market opportunity. Our goal and commitment as a newly combined entity is to maintain the strengths of both legacy companies," affirms Doug. "From well-known brands, leading technology, hands-on technical support, project specifications, equipment, parts and accessories, and free rig maintenance, Icynene-Lapolla is the 'one-stop-shop' of the spray foam industry."
» For more information, please visit www.icynene-lapolla.com.

Disqus website name not provided.
The Men Behind the Empire