Tennessee Chill Box To Receive GSA Certification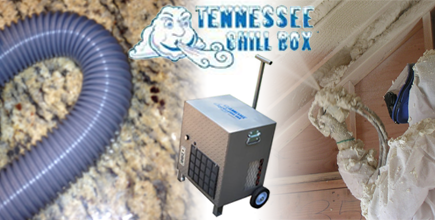 HARRISON, TN – October 25, 2013 – Tennessee Chill Box, LLC (TCB) is currently in the process of receiving a U.S. General Services Administration (GSA) certification. This specialized certification will allow TCB to expand their prestigious air-conditioning respirator system business by enabling them to work with Federal government and agencies, including natural disaster and national emergencies.
Aside from the spray foam industry, the GSA certification will allow TCB to branch out to different fields such as painting, welding, healthcare, military, and aviation.
"After our success in the spray foam industry, we've decided to take the proper steps to expand our business," said TCB's President and CFO Serena Asbra.
Tennessee Chill Box has been providing spray applicators with air respirator system solutions that require no air compression since 2010, and they recently implemented a new crush-proof hose assembly for their blower-driven systems.
"We provide comfort and safety for the spray foam applicator," said Asbra. "The amount of CFM's delivered from our system surpass what is required, even when it's a dual breathing system. Not to mention, air-conditioning is there if they need it."
As far as requirements go, the TCB blower-driven system is OSHA-compliant. Asbra noted that TCB keeps all the proper documentation that supports safety and quality on the job, so that spray foam businesses can rest easy when a supervisor or inspector comes around to inspect a given site.
Following TCB's pending GSA certification, the company has decided to roll out a Christmas giveaway of a complete TCB system for one of their clients. Companies that purchase TCB products from October 1 through December 25, 2013 will automatically enter into a drawing that will take place on Christmas day. The winner will be announced on December 31st via SprayFoam.com
About Tennessee Chill Box: Harrison-based Tennessee Chill Box aims at improving the working conditions and performance of sprayer applicators. The Chill Box was designed to eliminate exhaustion, cramps, fatigue, nausea, dizziness and weakness via condition air, as high attic temperatures contribute to safety concerns and the loss of production and profits. Tennessee Chill Box has an OSHA Authorized Trainer on-site to ensure compliance with all OSHA-referenced standards, regulations and requirements. For more information, please use the contact details provided below.
Contact Details
Name: Serena Asbra
Email: Email Us
Phone No: 855-213-0778