Synergy with Synthesia Technology
Synergy with Synthesia Technology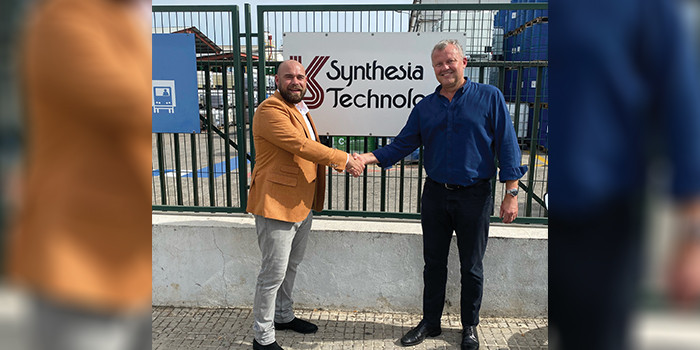 Spray Foam Magazine – Fall Issue 2021 – Spray Foam Magazine spoke with one of our favorite Brits, Steve Jewell, who has just announced why his company, SWIS Distribution, will now be called SWIS-Synthesia UK. Steve then introduced us to Thomas Christensen, Europe's General Manager of Synthesia Technology, to hear all about this exciting collaboration.
Spray Foam Magazine: How are you feeling about your new venture with Synthesia Technology?
Steve Jewell, CEO of SWIS-Synthesia UK: I am incredibly excited and delighted about the collaboration! The prosperity and opportunities presented to the SWIS network has always been at the heart of my decision making. Without any shadow of a doubt, the enthusiasm and urge for success from Synthesia Technology and the possibilities that this will create for all those associated with the unison are far too exciting to pass up.
SFM: What products does Synthesia Technology manufacture?
SJ: Synthesia produces a whole host of exciting and technologically advanced products including both open and closed-cell polyurethane spray foam insulations, polyureas, as well as silicone and acrylic coatings. What excites me the most, is that Synthesia are utilizing some of the newest technologies to formulate superior coatings and insulation products as well as constantly using the latest research to ensure that existing products remain at the forefront of consumer wants and needs.
SFM: How does Synthesia Technology products and company ethos compliment your company?
SJ: From the very first online meeting our values and company cultures led to a unison that I have rarely experienced before so quickly. From that initial stage, I knew that I wanted SWIS Distribution's future to lay with Synthesia Technology.
SFM: How do you expect this business relationship to develop?
SJ: The number one priority on my list is to keep growing the industry within the UK. We already have a hugely successful formula and will continue teaming up with successful and pioneering companies with the same ethos that we share at both, SWIS and Synthesia Technology. That way everybody reaps the rewards from past experiences and successes and as a network we will continue to be at the forefront in the UK for a long time to come!
SFM: What is SWIS-Synthesia UK's vision for the next few years?
SJ: Since 2015 we have grown as a network at an incredibly positive rate, and without any shadow of a doubt this will continue well into the future. Both Synthesia Technology and SWIS-Synthesia UK are committed to providing the best customer care and support for contractors within our network. Thus, ensuring that not only do they have our marketing and technical expertise to utilize but that we continue to explore new business and application avenues expanding the scope of work that contractors can carry out.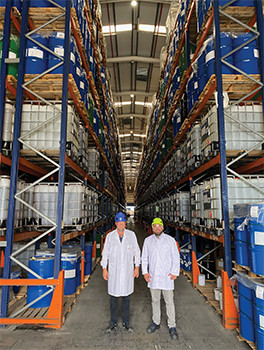 SFM: Where is Synthesia Technology located?
Thomas Christensen, Synthesia Europe General Manager: Synthesia Technology is located in the Barcelona area in Spain. We have two factories that manufacture products widely used in the building insulation industry, including polyurethane spray foams.
SFM: How long has Synthesia Technology been in the Spray Foam market?
TC: Synthesia Technology has been active in the spray foam market for over 45 years. In the early days, the business was focused on the Spanish market, but it quickly expanded and today we deliver spray foam products and various coating solutions to most countries in Europe.
SFM: What is Synthesia Technology's ethos?
TC: Synthesia Technology success over many years has been based on a focus on product innovation and a very strong customer orientation – this focus continues to this day and will continue to be what Synthesia Technology stands for. In addition, we have a very strong value set related to our environment and how we can work to protect it. This is evidenced through our very strong PET recycling efforts and commitments and through increasing use of natural/BIO raw materials. For more info on this, please check www.synthesia.com/en/900-million-of-recycled-pet-bottles-in-2020. In addition, we are very focused on continuing the market expansion across the European markets, through increased investments in local representation and by attracting talented people who want to work for a progressive company in a very exciting industry with a lot of future potential.
SFM: What is their vision for the future with what is now SWIS-Synthesia UK?
TC: We are very excited about the partnership with SWIS for the UK market. Like SWIS, Synthesia Technology is committed to close customer contact and support. SWIS has done an excellent job of growing their business in the UK over the past six years. We are confident that the partnership of SWIS and Synthesia will be a strong force in the UK market in the coming years and that we can continue to grow the business and support SWIS in writing the next chapter in their success story. 

Disqus website name not provided.
Synergy with Synthesia Technology