Summer in Long Island Wine Country
Summer in Long Island Wine Country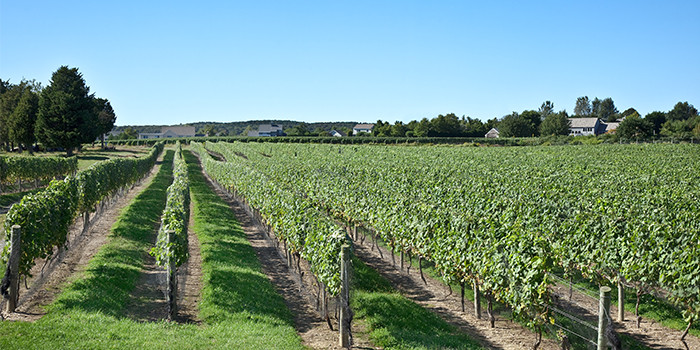 Spray Foam Magazine – Summer Issue 2022 – Forget summer in The Hamptons and soak up the rays in the lesser known, but equally stunning Long Island Wine Country. Long Island's North Fork is referred to by some locals as the "Sister to the Hamptons." This unique region of Long Island is fast becoming a favorite for home buyers and summer home retreaters. Dotted amongst a community of wine producers, the area of North Fork has some impressive new builds. Spray Foam Magazine spoke with East End Insulation LLC to find out about spraying in this chic and up-and-coming area.
East End Insulation LLC is owned by business partners Pete Gevinski Jr. and Frank Fenoy Jr. Childhood friends, they once lived on the same street a few houses from each other. Growing up, both Gevinski and Fenoy worked in the trades—Fenoy as an electrician and Gevinski in utility services and landscaping. By luck, the friends came across an opportunity to install spray foam insulation. They became interested quickly, took some classes, and have now been spray foam partners for six years.
Gevinski and Fenoy stated, "Service is what we believe separates us from others. We pride ourselves on punctuality and proper planning to help keep jobs neat and moving along efficiently. Simple things such as cantilevers and overhangs being done prior to siding to keep everything neat are super important. The contractors we work with are aware that even if it's minor or an emergency, we will be there to get it done. Our reputation is what feeds our families, so it's very important to us. It's also easy to sleep at night knowing that we put our best foot forward, making sure our jobs are done correctly."
Based out of North Fork, the East End Insulation LLC crew works all over Long Island and recently completed an installation on a new home build in Paradise Point, a beautiful neighborhood in Southold, NY. As the name suggests, this neighborhood is a slice of paradise right next to the water. The crew has worked with this home's builders numerous times and know how meticulous they are in their work.
The entire area sprayed totalled 12,000 sq.ft., with NCFI closed-cell foam applied to the basement walls and the above grade exterior walls.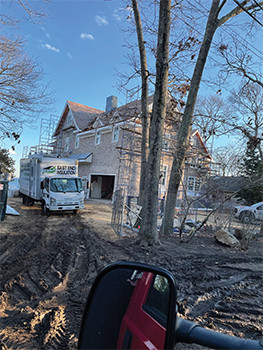 East End Insulation prides themselves on punctuality and proper planning to help keep jobs–such as a spray foam installation project at this new home construction in Southold, NY–neat and moving along efficiently.
East End Insulation has proved to them in past projects that their quality of work is of a high standard, as Gevinski highlights, "At least 90% of our growth has been through word of mouth from builder to builder, homeowner to homeowner. We are not into underbidding and just getting jobs. We are into relationship building with contractors, builders, and clients. We really focus on superior service throughout our business. Some of these bigger, more commercialized companies are not able to maintain this level of service. We keep it manageable even though in the last year we have tripled in size."
The house was spec'd using both the architect and the Home Energy Rating System, known as HERS. This system is becoming increasingly popular with builders wanting to apply these guidelines to receive their HERS score as additional proof that their builds are achieving a greater level of sustainability. By installing materials such as spray foam insulation, LED lighting, and passive solar alignment, the HERS score can be improved.
The East End Insulation crew received the builders HERS energy report with a set plan, and that's what they based their R-values off of, and deciphered what spray foam was to be installed where. However, the entire envelope must be sealed regardless for air testing.
The four-man crew arrived on the site of the new construction on a bitterly cold day. Luckily for them, this builder fitted the house with temporary heat during the winter months, so they soon warmed up.
The crew parked their rig, which included a PMC PH-2 Proportioner, T3 transfer pumps and PMC Heated Hose 210', 18ft Isuzu, PMC ph2 proportioner, and 30kw diesel generator. They have since purchased a brand-new second rig from Profoam Corp., a 26' freightliner which includes two PMC PH-2 proportioners, 45kw diesel generator, crew compressor, 250' of heated hose on each machine and four T3 transfer pumps. Profoam also provided PPE and safety equipment. The rig arrived turnkey, including a fresh air system, scaffolding, and an abundance of useful miscellaneous tools.
The first task was to cover the windows, doors, and mechanical units to protect them from overspray. Decked up in full PPE, the crew had supplied air respirators for the sprayers, full face respirators for the helpers, and gloves and Tyvek suits were worn by all. Gevinski stated, "We go in and spray the envelope prior to any electric, plumbing and HVAC, etc. to assure a neat, clean job.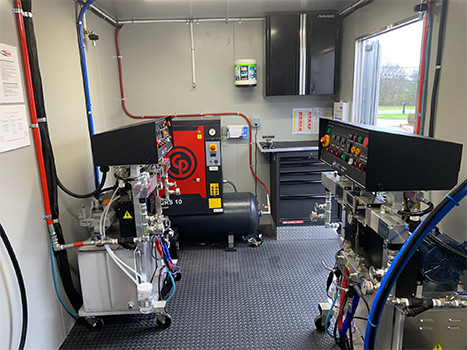 East End Insulation will utilize their brand new turnkey rig from Profoam on their upcoming job.
Once all rough inspections are passed, we come in and seal any penetrations made and complete fire-blocking with any fiberglass and or rockwool then installed. Without a solid crew, a job like this would be a nightmare."
This job included 12,000 sq.ft. of spray area–the entire envelope, roofline, exterior walls, and basement walls. East End Insulation applied 2.5 inches NCFI 2lb HFO closed-cell foam to the basement walls and two inches to the above grade exterior walls, which was a hybrid system of R-13 unfaced batts over foam. The roof had five inches installed with an intumescent coating then applied to the foam in the attic with a minimum of 13 wet mils.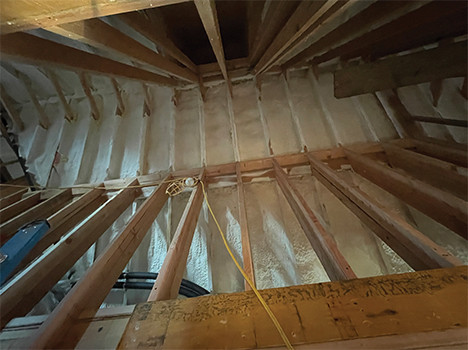 Closed-cell foam was installed to the roof joists with an intumescent coating then applied to the foam in the attic.
By always keeping a high standard of work, the East End Insulation crew has yet again made the client happy by successfully insulating what will be an energy-efficient home in appropriate timeframes alongside other trades.
Rob Gabrielsen from Gabrielsen Builders, Long Island, NY confirmed, "Over time the current standards and codes have come a long way regarding how to insulate your project. You have one opportunity to get it right prior to closing in. With this higher standard in place, naturally the work being performed is more complex than it used to be. Working with a good company such as East End Insulation has been a pleasure on my end as a contractor. Attention from the very beginning stages, to planning all the way until completion is key to getting a well-insulated home that performs well moving into the future."

Disqus website name not provided.
Summer in Long Island Wine Country