SprayFoam.com To Unveil Rig Contest Winner at SPFA Convention & Trade Show
SprayFoam.com To Unveil Rig Contest Winner at SPFA Convention & Trade Show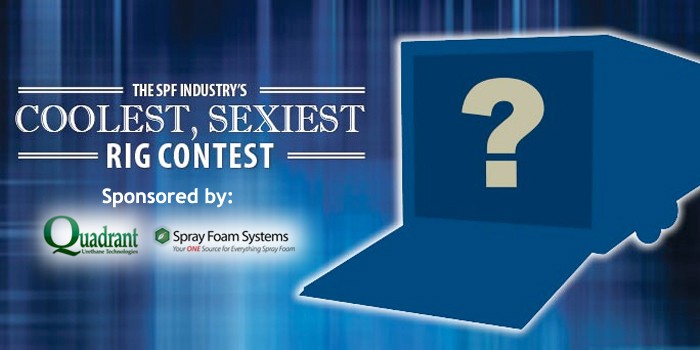 JUPITER, FL – January 21, 2016 – Spray foam contractors planning to attend the SprayFoam 2016 Convention and Expo only have 10 days left to post or send their best spray rig photo for a chance to win SprayFoam.com's Coolest, Sexiest Spray Foam Rig Contest. The contest, which is sponsored by Spray Foam Systems and Quadrant Technologies, will determine who has the most unique-looking spray rig at the SPFA show, furnishing the winner with thousands of dollars in prizes.
How To Enter Via Twitter
Take a high-resolution photo of the inside and outside of your spray rig on your camera or smartphone

Log into or set up your Twitter account and follow @SprayFoam_com

Tweet the photo of your rig to @SprayFoam_com and include the hashtag #MySprayFoamRig
Entries that are sent to SprayFoam.com's Facebook or Linked-In accounts will also be considered. SPF contractors can also send high-resolution photos via e-mail using the contact info listed below.
Winning!
The contest's finalists and winner will be announced on February 10th, 2016 prior to the SPFA's Welcome Reception. In order to become a finalist or winner of the rig contest, a representative from the spray foam contracting company MUST be present at the SPFA show. The winner will receive grand prizes that equate to nearly $5,000 in value. These include:
A set of either open-cell or closed-cell spray foam provided by Quadrant Technologies
A Yeti Tundra 65 QT Cooler filled with goodies that include a FLIR TG-165 Thermal Imager, a 3M 6800 full-face mask with cartridges, a DOW Froth-Pak 12 BFT Kit, a Great Stuff Pro 13 Can Foam Gun, and much more
An annual directory listing on SprayFoam.com
The last day to enter the Coolest, Sexiest Spray Foam Rig Contest is January 31, 2016.
For more information on the contest, please visit https://sprayfoam.com/spray-foam-education-center/the-spray-foam-rig-contest/66
RELATED SFS Discusses Opportunities with Air Barrier Applications , Sprayfoam 2016 Convention & Expo to be Held in Orlando
About Quadrant Urethane Technologies: Quadrant Urethane Technologies is the industry leader in spray foam technology with industry-best products such as ArcticSeal, QuadFoam, NatureSeal OCX, and NeXGen. Quadrant is the only ISO 9001 certified spray foam systems manufacturer in the industry, and our customers love the consistent spray performance in summer or winter.
About Spray Foam Systems: Spray Foam Systems is a leading supplier of spray foam equipment, including ProPAK Mobile Spray Rigs and NiTROSYS refillable low-pressure spray foam system, and is also a Top 20 Graco Distributor. Understanding that a quality product can only be produced with quality equipment, Spray Foam Systems strives to produce the highest quality and completely turnkey mobile spray rig available on the market today, the ProPAK Mobile Spray Rig.
About SprayFoam.com: SprayFoam.com is the number-one Website dedicated to spray foam insulation and roofing. With an array of industry news, business listings, educational content, forums, and classifieds, SprayFoam.com connects the entire industry, from contractors and suppliers, to homeowners and builders, to architects and consultants. SprayFoam.com also publishes the industry's widest-read periodical, Spray Foam Magazine.
Contact Details
Name: Aileen Roblero
Email: Email Us
Phone No: (561) 768-9793
---
SprayFoam.com To Unveil Rig Contest Winner at SPFA Convention & Trade Show