SprayFoam.com Launches Contest to Find Top Spray Rig
SprayFoam.com Launches Contest to Find Top Spray Rig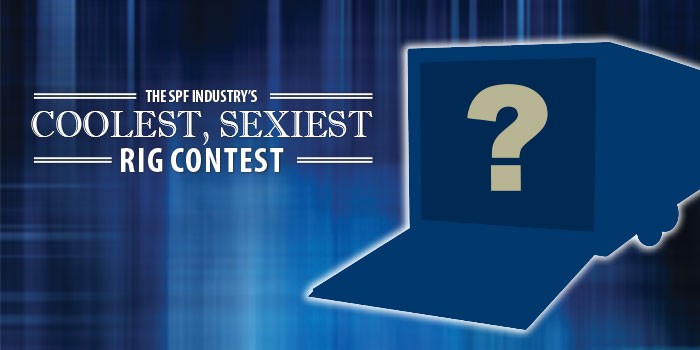 JUPITER, FL–December 21, 2015–SprayFoam.com is proud to announce the Coolest, Sexiest Spray Rig Contest, which will determine the most stand-out spray rig at the Sprayfoam 2016 Convention & Expo. Spray Foam Systems and Quadrant Urethane Technologies are sponsoring the contest, furnishing the winner with thousands of dollars in prizes.
"We are honored to have two outstanding sponsors," said Tawny Gaines, Editorial Development Manager for SprayFoam.com. "We all believe this is a win-win for everyone, and a lot of fun too!"
How Does The Contest Work?
The contest is an opportunity for SPF contractors to showcase their rigs and potentially win thousands of dollars in prizes. Any contractor who wants to show off their spray rig is welcome to enter. The top five entries will get exposure, but only one lucky contractor will win the grand prize, furnished by Quadrant and Spray Foam Systems.
How Do You Enter?
All entries will be received on Twitter, and contractors can enter via three easy steps:
Take a photo of your spray rig on your smartphone.

Log into or set up your Twitter account.

Tweet the photo of your rig to @SprayFoam_com and include the hashtag #MySprayFoamRig.

The contest will be taking entries until January 31, 2016.
How Do You Win?
SprayFoam.com will determine the five finalists and the grand prize winner, which will be announced at the Sprayfoam 2016 Convention & Expo. The announcement will take place at SprayFoam.com's booth (#515) in the Exhibit Hall. Contestants must be present to win.
RELATED Agency Assists Spray Polyurethane Foam Contractors and Suppliers Reach New Heights , New Construction Starts Climb 13 Percent, New Study Suggests Strong Outlook for Green Homes

About Quadrant Urethane Technologies: Quadrant Urethane Technologies is the industry leader in spray foam technology with industry-best products like ArcticSeal, QuadFoam, NatureSeal OCX, and NeXGen. Quadrant is the only ISO 9001 certified spray foam systems manufacturer in the industry, and our customers love the consistent spray performance in summer or winter.
About Spray Foam Systems: Spray Foam Systems is a leading supplier of spray foam equipment, including ProPAK Mobile Spray Rigs and NiTROSYS, and is also a Top 20 Graco Distributor. Understanding that a quality product can only be produced with quality equipment, Spray Foam Systems strives to produce the highest quality and completely turnkey mobile spray rig available on the market today, the ProPAK Mobile Spray Rig.
About SprayFoam.com: SprayFoam.com is the number-one website dedicated to spray foam insulation and roofing. With an array of industry news, business listings, educational content, forums, and classifieds, SprayFoam.com connects the entire industry, from contractors and suppliers, to homeowners and builders, to architects and consultants. SprayFoam.com also publishes the industry's widest-read periodical, Spray Foam Magazine.
Contact Details
Name: Tawny Gaines
Email: Email Us
Phone No: 561-768-9793
SprayFoam.com Launches Contest to Find Top Spray Rig