SprayFoam.com Announces Specialty Products, Inc. As New Site Sponsor
SprayFoam.com Announces Specialty Products, Inc. As New Site Sponsor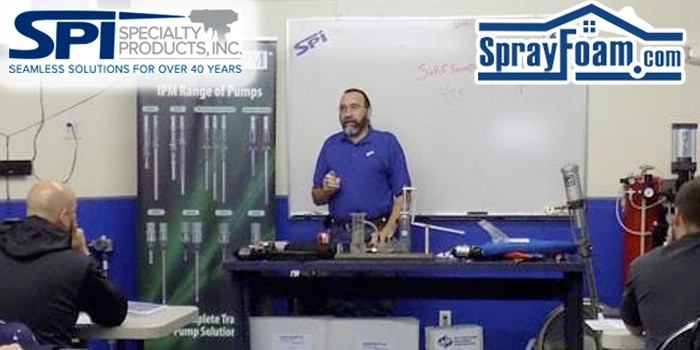 LAKEWOOD, WA – June 15, 2016 ­– It's official. Specialty Products, Inc. (SPI) and SprayFoam.com have agreed to join forces. As of today, SPI is an official SprayFoam.com site sponsor, which means their brand will be featured exclusively throughout the SPF industry's #1 Website, resulting in a notable increase in traffic from visitors and potential customers seeking SPI's top-of-the-line spray polyurethane foam, polyurea coatings, as well as high-quality equipment and parts to apply these materials.
"We are excited about having a top-notch company join us on SprayFoam.com in such a substantial way," says Tawny Gaines, Editorial Development Manager for SprayFoam.com. "We look forward to working with a manufacturer that has the amount of experience SPI enjoys. Since 1974, the team at SPI has provided quality, technical support, and cutting-edge products to the spray foam industry. That really shows a commitment to the industry. We are here to provide best resources available to the spray foam world, and are glad to have SPI be a part of it."

Aside from their product offering, SprayFoam.com aims to further promote SPI's Poly Training Academy applicator classes. SPI strives to set the standard in industry leading technical training for polyurea and spray polyurethane foam applications, offering monthly, hands-on-courses taught by a NACE-certified instructor in different areas of the country.

RELATED Polyurea University Announces Training Schools for Summer/Fall, SPI Announces 2015 Distributor of the Year Award, Specialty Products Inc. Welcomes Benny Abbott to the Role of Director of Education and Field Training
Gaines points out that SPI's sponsorship will also help promote and extend SprayFoam.com's reach to more contractors and suppliers in the industry. "As our website continues to grow, we can safety say that those who benefit the most from it's increased readership are the Global and Site Sponsors," notes Gaines. "SPI joining us as a Site Sponsor is an honor, and allows us to showcase the best of the best on our site."
About Specialty Products Inc.: Since 1974, Specialty Products Inc. (SPI) has continued to be a premier formulator and manufacturer of spray-and-pour-applied polyurea elastomers, polyurethane foams and custom plural component equipment. Headquartered in Lakewood, Washington, SPI also has operation centers in Rowlett, Texas; Chicago, Illinois; and Anchorage, Alaska. We provide our clients with a one-stop shop solution through manufacturing our own products, spray equipment, and accessories, safety protection equipment, and providing 24/7 technical support. Our unique testing environment allows our chemists to rapidly formulate and test product variations, and quickly bring them to market. This ensures you will have a product that is formulated with the performance characteristics to meet your individual project needs. SPI provides superior technical customer service and continuously educate ourselves on the latest industry technologies. Our qualified personnel provides comprehensive, hands-on training classes to educate clients, contractors, fabricators, and OEM engineers on how to properly use plural-component spray equipment and apply all of our products. SPI is a founding member of the Polyurea Development Association (PDA). With a technical staff of a combined total of 200 years of experience, SPI is your trusted source for polyurea coatings, foam products, and spray application equipment. For more information, please visit www.specialty-products.com.

About SprayFoam.com: SprayFoam.com is the number-one Website dedicated to spray foam insulation and roofing. With an array of industry news, business listings, educational content, forums, and classifieds, SprayFoam.com connects the entire industry, from contractors and suppliers, to homeowners and builders, to architects and consultants. SprayFoam.com also publishes the industry's widest-read periodical, Spray Foam Magazine.
Contact Details
Name: Tawny Gaines
Email: Email Us
Phone No: 561-768-9793
---
SprayFoam.com Announces Specialty Products, Inc. As New Site Sponsor