SprayFoam.com Announces Lapolla As A Global Sponsor
SprayFoam.com Announces Lapolla As A Global Sponsor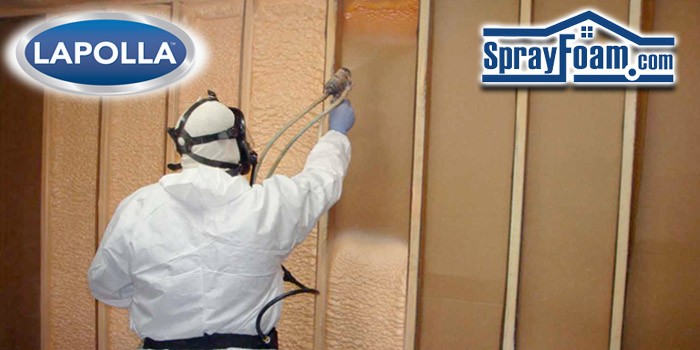 HOUSTON, TX
– January 2, 2017 –
SprayFoam.com
announces that we have formed a partnership with Lapolla Industries, making Lapolla a Global Sponsor of
SprayFoam.com
and
Spray Foam Magazine
for 2017. This partnership means that Lapolla Industries' brand will be promoted throughout
SprayFoam.com
, the spray polyurethane industry's #1 Website. Lapolla reaches the residential, industrial, and commercial markets with their open- and closed-cell foam systems.
"I am so proud of our partnership with Lapolla. They bring so much to the table," says Tawny Gaines, Editorial Development Manager of SprayFoam.com. "They are a known Leader in protecting the environment, by promoting the reduction of energy consumption. In fact, they were invited to the White House for their work. Doug Kramer and his team are my heroes for their environmental leadership."
Lapolla is a global manufacturer and supplier of premium and high-quality roofing products, spray foam insulation, turn key spray foam rigs, and spray polyurethane foam equipment.
A drive for innovation mixed with the desire to reduce their overall carbon footprint resulted in Lapolla being the first in the industry to release foam utilizing Solstice LBA, the cutting-edge, ZERO VOC blowing agent. This means that in addition to delivering energy efficiency through outstanding insulative properties, Lapolla's products are also environmentally responsible as well.
Lapolla's portfolio of products includes Foam-Lok 2000™ 4G, the first fourth generation closed-cell wall spray foam system, which features Solstice LBA, has an improved yield of 8 to 10% over previous generation products, and reduces Ozone depletion potential by 100% with an ODP value of zero.
"You should be looking for exciting information coming from us about Lapolla and it's products in 2017," says Gaines. "It is looking like the coming year will be the best year in the spray foam industry to date!" Lapolla's products provide industry-leading insulative materials that can seal homes and offices from moisture and air intrusion, strengthen the structures themselves, and protect those inside from dangerous mold, airborne pollutants, and allergens, all while reducing utility bills.
About Lapolla:
Lapolla Industries, Inc. is a global supplier and manufacturer of spray polyurethane foam insulation, roofing foam, reflective roof coatings, and equipment for their application designed to reduce energy consumption in the residential, industrial, and commercial markets for both new construction and retrofit applications. More information is available at
www.lapolla.com
About SprayFoam.com: SprayFoam.com is the #1 Website dedicated to spray foam insulation and roofing. With an array of industry news, business listings, educational content, forums, and classifieds, SprayFoam.com connects the entire industry, from contractors and suppliers, to homeowners and builders, to architects and consultants. SprayFoam.com also publishes the industry's widest-read periodical, Spray Foam Magazine.

Contact Details
Name: Danette Pulis
Email: Email Us
Phone No: (855) 521-7030
SprayFoam.com Announces Lapolla As A Global Sponsor