Spray Polyurethane Foam Equipment and Material Supplier Receives Award and Recognition
Spray Polyurethane Foam Equipment and Material Supplier Receives Award and Recognition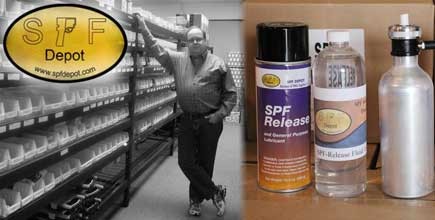 BOSSIER CITY, LA – December 4, 2013 – Louisiana-based SPF Depot aims to live up to its name by being a complete source for SPF contractors to obtain work materials. After seven successful years of providing SPF materials and equipment to customers from all over the world, 2013 has certainly been SPF Depot's banner year. The company's growth and success has been fueled by a substantial increase in sales, which contributed to SPF Depot being named the Best Small Business in Northwest Louisiana.
The accolade of the region's best small business was bestowed upon SPF Depot by the Chamber of Commerce of Shreveport, Louisiana. According to Patrick Gililland, SPF Depot's owner, being recognized with such an honor is a testament to his company's diligence in helping their customers get the best product at a reasonable price.
"The recognition shows how far we've come as a company," Gililland said. "We pride ourselves in being a company that helps people without any pre-conditions. We don't care if a person that calls in buys from us, we want to help him or her troubleshoot any problem their having and if we can offer a quality product at a good price while we are at it, then it becomes a win-win situation."
SPF Depot provides tools, parts, and repair kits to suit the SPF user's needs. They distribute equipment and materials from companies such as IPM, Fomo, 3M, Allegro, and PMC. SPF Depot offer their own brand of cost-effective solutions to repair equipment and replace parts from these other brands, which is another contributing fact to their growing customer base, according to Gililland.
"We strive to have everything that an SPF user needs readily available, from safety equipment to parts for a spray gun," Gililland said.
Among their many product choices, Gililland noted that their new line of SPF Release for overspray containment has been a big seller throughout 2013. The SPF Release is custom-blended and packed by SPF Depot. The products comes in two forms: in an aerosol can and in a 12-oz. bottle in a fluid-based component form. Gilliland explained that because there is a lot of red tape and additional costs involved when it comes to shipping a product that is inside a pressurized aerosol can by either plane or ship, SPF Depot created a fluid-based component to be able to move their product all over the world. Gililland said that putting their SPF Release product into a bottle has proven to be a cost-effective solution.
"The aerosol can only be transported by ground to make a real profit, and that completely limits you to 48 states and portions of Canada," Gililland said."The reason for this is because materials inside a pressurized aerosol cans are considered hazardous and involve hazmat forms and high additional costs, whereas our fluid-component release can be shipped by plane and ship without these obstructions. Our fluid is sold with a DIY can that the end user can fill and pressurize when the product reaches its destination."
For the approaching 2014 year, Gililland states that SPF Depot's goal is to see an additional 30-35 percent growth rate over this year's sales. He added that SPF Depot will be introducing new products, as well as a new distribution center in Europe to add to their existing distribution sites in Canada and China.
About SPF Depot: SPF Depot manufactures side seals for use in the Fusion® and Gap® spray guns along with mixing chambers for use in the FUSION® gun. SPF Depot packages the 3oz grease tube, O ring lube, TSL lube and SPF-6 ,ISO solvents, and they manufacture and supply every part required to rebuild the Fusion gun. They are distributors for 3M, North Safety, MSA, IPM, FOMO and Allegro Safety with inventory total value over $500,000 to keep customers supplied at a moments notice. For more information on SPF Depot, please use the contact information and links provided below.
Contact Details
Name: Patrick M. Gililland
Email: Email Us
Phone No: (318) 742-8000
---
Spray Polyurethane Foam Equipment and Material Supplier Receives Award and Recognition