Spray Foam & Termites: What's All the Fuss?
Spray Foam & Termites: What's All the Fuss?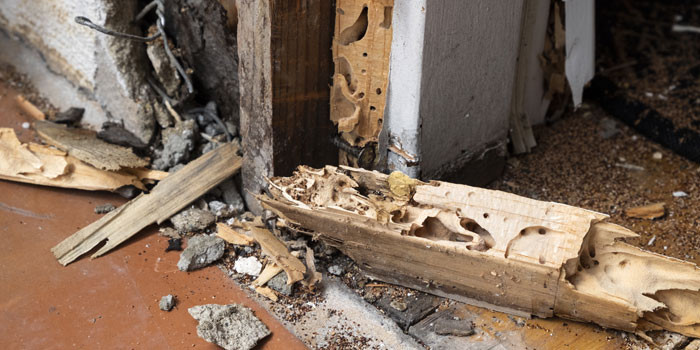 Spring 2020 – Spray Foam Magazine – In December, the Spray Polyurethane Foam Alliance (SPFA) introduced Spray Foam Insulation and Subterranean Termites in Basements and Crawlspaces, a resource for spray foam contractors and professionals in the pest management industry which addresses common issues associated with termites and spray foam. Providing detailed information about termite identification, behavior, inspection and treatment methods, the document also emphasizes the importance of air sealing and the insulation of critical areas using SPF. Ultimately, the report provides options to ensure that energy efficiency and pest management can both be achieved in a home.
The resource comes at a critical time for the industry. Over the past few years, points of contention have cropped up between the spray foam and pest management sectors. Independent pest management contractors have cancelled existing warranty programs and refused to cover homes with spray foam. To address inspection concerns, a state agency, the Georgia Structural Pest Control Commission (GSPCC), has proposed changes to the building code to eliminate permanent insulation in the framing-foundation interface. Additionally, builders have received complaints from homeowners concerned about their inability to perform whole house fumigations. Negative and misconstrued news coverage has confounded the termite issue even further.
As a contractor, you are likely to have heard rumblings of this subject. It is important to note the problem concerning termites actually falls into two core categories: the first is the belief by pest management professionals (PMPs) that spray foam impedes their visual inspection process and the second is that that fumigators believe you cannot ventilate, or aerate, termite fumigants in homes with SPF unvented attics.
Let's talk about problem number one. PMPs have traditionally detected subterranean termites through visual inspection during which time they look for mud tubes created by the insects and mechanically inspect the home for wood damage to the sill plate. These visual inspections may be mandatory for termite warranty programs and for the transfer of real estate. Pest pros have expressed worry that spray foam can conceal damage and prevent their visual inspections which has unfortunately led to the cancellation and refusal of termite bonds and warranties in some areas.
The International Residential Code (IRC) addresses pre-construction subterranean termite controls in Section R318 for new construction and measures depend on the building location. Preconstruction measures detailed in the code include:
Borate treatment of select wood members
Termiticide application to soil under slabs, at potential termite entry points and adjacent to foundation walls
Termite baiting systems
Use of preservative treated wood or termite resistant wood
Physical barriers beneath slabs and at termite entry points (aka 'termite barriers')
In areas of heavy termite infestation:
– The use of foam plastic insulation is not permitted on the exterior face of the walls or below footings, foundations or slabs that are blow grade.
– Foam plastics on above grade walls must be six inches above the ground.
In addition to providing pest management rules, building codes are also increasing focus on energy efficient building practices and spray foam is ideal for this. Two common areas the material comes into conflict with PMPs is in the insulation of basements and crawlspaces. SPF is installed in these areas using two common methods. The first method insulates the underside of the floor above an unconditioned basement or vented crawlspaces with SPF to a minimum floor R-value specified by the building code. This method allows visual accessibility to the foundation-framing interface for termite inspections, however it uses significantly more SPF and can obstruct piping and wiring in the floor assembly. The second method insulates the conditioned basement or crawlspace wall area with SPF from the underside of the subfloor, over the band/rim joist, sill plate and wall, down to the slab/vapor retarder on the floor. This creates a continuous layer of insulation and air barrier, to a minimum below-grade wall R-value specified by the building code and may reduce visual accessibility to the foundation-framing interface for termite inspections.
The SPFA's new document provides contractors with guidance on modern means for spray foam installation in heavy termite regions. This includes several pest inspection-compliant options for installing SPF below floors or on below-grade interior walls that can increase accessibility of visual inspection of these areas. The SPFA is also currently promoting the use of non-visual inspection methods to the pest management industry as well as to regulators now looking at this ongoing issue.
The second problem concerning termites, or whole house fumigation, is a separate issue that focuses on unvented attics. Fumigation is the primary means for treating Formosan and drywood termites in homes. These types of termites are found mainly in warm climates. The pesticide utilized, sulfuryl fluoride fumigant, or SFF, is highly toxic, regulated by the EPA and also used for treatment of bed bugs and other pests across the US. SFF is utilized to treat approximately 200,000 homes annually with about 70,000 residences in Florida, and the remaining spanning Gulf Coast states, California and Hawaii.
The primary issue surrounding SFF fumigation centers around a moratorium issued by the two largest manufacturers of the pesticide instructing fumigators not to treat homes with unvented attics using spray foam. This moratorium was introduced after pest management professionals noted that 1 ppm of SFF could not be achieved after the standard 24 hours of aeration (forced ventilation) in these SPF unvented attic homes. The spray foam industry strongly disagrees with the decision as our industry's leaders assert the real issue centers around proper aeration procedure and UVA, not the spray foam. The SPFA has been collaborating with the primary fumigant manufacturer, Douglas Products, to help educate them on the aeration issue. The manufacturer in turn has cited a need for methodical research and EPA regulations.
It appears that the standard SFF aeration procedures work well with vented attics but not with unvented attics. Douglas has presented modified aeration procedures and the SPFA has identified issues with some of their proposed solutions that could compromise the thermal barrier or air-barrier. The SPFA also offered a two-fan ventilation approach used by SPF contractors for ventilation during SPF application. This has been well-received by Douglas Products. Field testing of the modified aeration procedure is set to occur this year with a subsequent review by the EPA, which could take several additional months. If there are concerns from SPF customers with unvented attics that cannot perform fumigation, there may be alternatives to SFF that include whole-house heat treatment.
The bottom line is the SPFA continues to fight on behalf of insulation contractors to resolve both termite issues and to defend the use of spray foam insulation. The SPFA encourages all contractors to review its latest report for detailed guidance at www.sprayfoam.org/spfa-releases-updated-termite-guidance-document-and-new-video. The alliance is also offering a video on the topic, How Spray Foam Works – Basements and Termites, for all those interested at The SPFA's YouTube Channel (@TheSPFA). It is essential for all insulation contractors to stay abreast of termite and SPF developments.
About the Author: Rick Duncan, Ph.D., P.E is the Technical Director of the Spray Polyurethane Foam Alliance (SPFA), the industry's leading organization representing contractors, material and equipment manufacturers, distributors and industry consultants. The SPFA promotes best practices in the installation of spray foam and offers a Professional Certification Program to all those involved in the installation of the product.

---
Spray Foam & Termites: What's All the Fuss?