Spray Foam Magazine Increases Print Circulation Over 500%
Spray Foam Magazine Increases Print Circulation Over 500%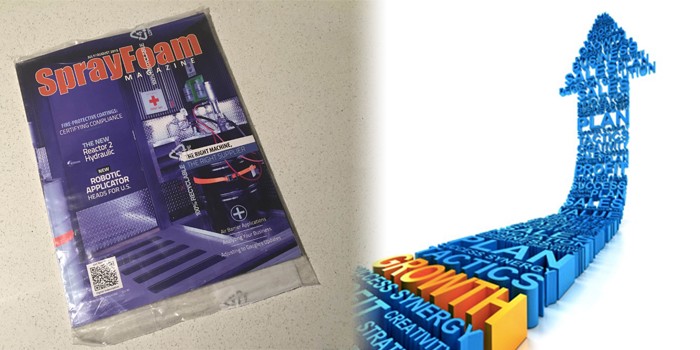 JUPITER, FL–August 5, 2015–Right on the heels of SprayFoam.com's new website launch, Spray Foam Magazine has major news of its own. In response to increasing interest in the print version of the publication, Spray Foam Magazine expanded its print circulation by more than 500% for the July/August 2015 Issue. Digital subscribers who've updated their mailing addresses also receive the print version of the magazine, which was mailed out in July.
"We've been greatly encouraged by the growing interest in the print edition of SFM," said Ryan Spencer, Editor-in-Chief. "We've always been proponents of digital publishing, but we think the print edition resonates with our subscribers in a special way."

While sign-ups (via address updates) for the print version of Spray Foam Magazine have been rolling in since the announcement in January, a rush of sign-ups came after the May/June Issue was published. Combined with an active campaign to ensure subscribers can receive their print copy at home or work, Spray Foam Magazine's print edition circulation increased more than fivefold for the July/August Issue.

"The print edition has been especially sought after since our May/June Issue launched," said Spencer. "We committed significant resources to ensure our print run matched the surging interest."

Subscribers should keep an eye out for the print version of Spray Foam Magazine, which is published bi-monthly, in the mail right after the launch of the digital version. Unlike quarterly publications in the SPF industry, Spray Foam Magazine is published six times per year.

To subscribe, or to update your address if you're a digital subscriber and didn't receive a print copy, please use this link:
Spray Foam Magazine: Subscribe & Update
Highlights from the July/August 2015 Issue
Certifying compliance for fire-protective coatings
Building the Reactor 2 Hydraulic proportioner
Air barrier applications: SPF and beyond
Take the time to analyze your business
Tips for buying the right equipment
The latest robotic applicator, from Italy
Church acoustics, comfort improve with SPF
Spray foam insulates oceanside estate
SPF roof project endures Santa Ana winds
Inside Google's latest algorithm updates
Int'l Spotlight: BUFCA & Euro Coatings Show
Executive Outlook: Robert Jamieson

RELATED Mobile Growth for Spray Foam Magazine, SprayFoam.com

About SprayFoam.com: SprayFoam.com is the number-one website dedicated to spray foam insulation and roofing. With an array of industry news, business listings, educational content, forums, and classifieds, SprayFoam.com connects the entire industry, from contractors and suppliers, to homeowners and builders, to architects and consultants. SprayFoam.com also publishes the industry's widest-read periodical, Spray Foam Magazine.
Contact Details
Name: Ryan Spencer
Email: Email Us
Phone No: 561-768-9793
---
Spray Foam Magazine Increases Print Circulation Over 500%