Spray Foam Magazine Announces Contractor of the Year
Spray Foam Magazine Announces Contractor of the Year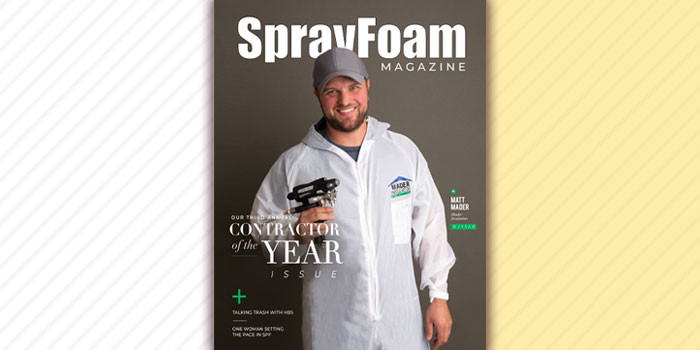 JUPITER, FL – December 1, 2020 – Spray Foam Magazine's Winter 2020 issue celebrates the contractor, which can mean only one thing…The 'Contractor 2020', has been chosen. The winner is Matt Mader of Mader Insulation LLC in Waterville, MN. There were some remarkable entries this year and we were blown away with incredible stories of determination and dedication, but most of all by contractors willing to help each other in times of need. Inside this issue, we have picked a number of contractors for different reasons including: our Cover Contractor for overall greatness, our runner-up for pure determination and contractors who have a talent for innovation and outstanding partnership.
Through difficult times, there are some stories of hope and inspiration to get us through all the doom and gloom. One such story materialized through a number of contractors, suppliers, manufacturers and consultants coming together to spray a homeowner's garage for free, following a botched job by uncertified contractors. This one is guaranteed to give you the warm and fuzzies.
The winners and Spray Foam Magazine sincerely thank the following sponsors for their very generous prizes which were distributed among the contractors recognized in this issue: Carlisle Spray Foam Insulation, Bullard, Tennessee Chill Box, SWD Urethane, Suburban Manufacturing Group, Graco Inc., International Fireproof Technologies, Inc., The Contractors Choice Agency, Spray Foam Systems, SprayWorks Equipment Group, Schmidt & Dirks Designs, SES Foam, LLC, and Akurate Dynamics.
Spray Foam Magazine's digital issue is now available online for free and on mobile devices through the award-winning Spray Foam Magazine App. The print version of the issue will be in the mailboxes of subscribers in a couple weeks.
Winter 2020 Issue Highlights:
About Spray Foam Magazine: Spray Foam Magazine is targeted to a global audience of building construction professionals and energy-conscious readers. It is distributed bi-monthly to applicators, manufacturers, distributors, specifiers, general contractors, architects, engineers, and managers in both the public and private sectors.
---
Spray Foam Magazine Announces Contractor of the Year