Spray Foam Hangs Ten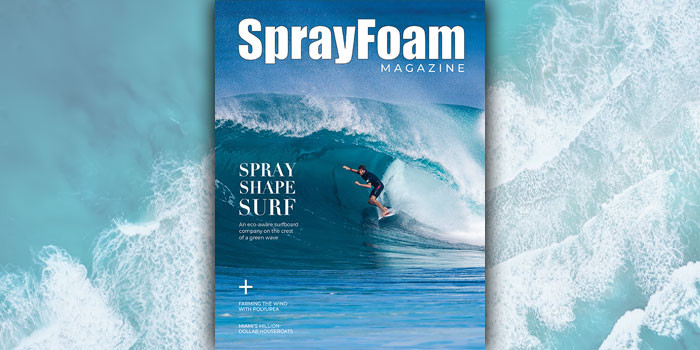 JUPITER, FL – APRIL 1, 2021 – Spray Foam Magazine's Spring Issue 2021 dips its big toe into salty water and looks at the use of SPF on marine projects. The Spray Foam Magazine team headed to Miami to review a striking million-dollar houseboat and how the company owners incorporated energy efficient materials, including SPF, into their aesthetic designs. From the warmth of Miami to investigating an offshore polyurea project, our team was really having a "swell" time.
We then caught a wave over to California where we spoke to an innovative surfboard company that is not only investigating and implementing natural bio-oils into their surfboard blanks, but they are also thinking of bring their foam to the construction industry.
From the element of water to that of air, we examined how air barriers are helping mitigate disease and how SPF potentially may help with diminishing unhealthy air. Sticking with the elements we put our feet on solid ground and visited some Canadians who sprayed a 6-level neighborhood complex with one incredible view. We also spoke to a contractor who leveled out an old buildings floor and injected new life back into an historical building. The last element is fire, and that particular flame will appear in the heat of our Summer issue…
Spray Foam Magazine's
digital issue is now available online for free and on mobile devices through the award-winning
Spray Foam Magazine
App
. The print version of the issue will be in the mailboxes of subscribers within the coming weeks.
SPRING ISSUE 2021 Highlights:
An eco-aware surfboard company is on the crest of a green wave
Spray foam's role in the construction of million-dollar houseboats
Ten best practices for building a profitable spray foam company
A conversation with Fred Sutter, President of Carlisle Fluid Technologies
Examining air barriers success in reducing disease transmission in buildings

A visit to NCFI's new state-of-the-art manufacturing facility in Houston, Texas

Evaluating the proven success of backlinks from reputable sources for your business

About Spray Foam Magazine: Spray Foam Magazine is targeted to a global audience of building construction professionals and energy-conscious readers. It is distributed bi-monthly to applicators, manufacturers, distributors, specifiers, general contractors, architects, engineers, and managers in both the public and private sectors.
---