Spray Foam Goes Off-Grid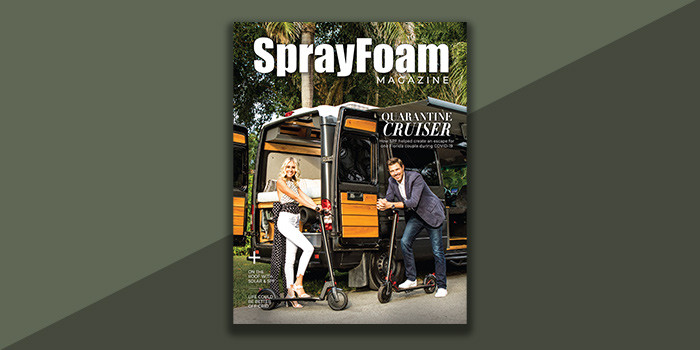 JUPITER, FL – February 1, 2021 – Spray Foam Magazine's Show Issue 2021 goes off-grid in a glam Mercedes Sprinter van, and also chats with a family starring in the popular TV show, Building Off the Grid. Both of these inspiring projects used SPF, but why though, and why is off-grid living becoming increasingly popular?
Spray Foam Magazine then goes 3D when we investigate a slightly unusual cabin in the woods. Leaving the woods behind, we track down some Jersey devils who spray foamed a dome home back in the 1970s. Waving goodbye to the devils, we then fly to Spain to tour a modern house to investigate how SPF helped support a crucial beam in the build. After all of that running around, the Spray Foam Magazine team relaxed and got honest with a marijuana company about growing the perfect crop.
This and lots more fascinating features for Spray Foam Magazine's Show Issue 2021.
Spray Foam Magazine's digital issue is now available online for free and on mobile devices through the award-winning Spray Foam Magazine App. The print version of the issue will be in the mailboxes of subscribers in a couple weeks.
SHOW ISSUE 2021 Highlights:
About Spray Foam Magazine: Spray Foam Magazine is targeted to a global audience of building construction professionals and energy-conscious readers. It is distributed bi-monthly to applicators, manufacturers, distributors, specifiers, general contractors, architects, engineers, and managers in both the public and private sectors. For more information or free instant access, please use the links provided below.