Spray Foam Equipment Expands to Montana to Better Serve Western Customers
Spray Foam Equipment Expands to Montana to Better Serve Western Customers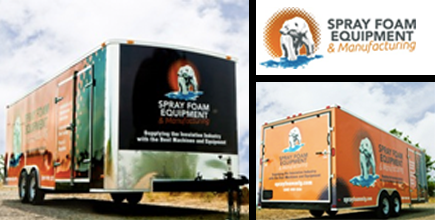 BILLINGS, MT–August 15, 2014–To better serve its growing customer base, Spray Foam Equipment & Manufacturing has expanded westward and opened a new 2,500-square foot facility southwest of Billings, Montana.
"Billings allows us to reach as far south as Denver, and we can go all the way into North Dakota," said Jason Spillers, Northwest regional manager for Spray Foam. "We can go westward even as far as Seattle, and up into Calgary and Edmonton."
Spillers said SFE, based in Calhoun, Louisiana, considers its June expansion to be strategically important to meet needs of its customers in the Western U.S. and Canada.
"We get a lot of calls from Canadian customers, and being in Louisiana, we're kind of limited by being two days away," Spillers explained. "Now, we have the opportunity to be three to five hours away."
The Montana facility will offer the same level of when-you-need-it equipment sales and service the company has provided from its Louisiana headquarters, Spillers said. The company specializes in spray foam equipment, hoses, spray guns, mobile spray rigs and parts.
"We're basically setting up the new facility just like our Louisiana facility, where we can offer next-day turnaround on mobile spray rigs," Spillers said. "We've got a very good system that we've refined over the last few years that allows us to do that."
In addition to equipment sales, the Billings facility offers training and technical support as well.
"We provide tech support on all of the equipment that we sell," Spillers said. "We're even set up here to repair all kinds spray equipment to meet the need of customers in the area."
While SFE recognizes a significant portion of the spray applications in Western regions will relate to industrial operations, other opportunities for spray applicators are plentiful.
For more information about SFE and its line of Boss spray equipment, please use the contact details and links provided below.
About Spray Foam Equipment & Manufacturing: Spray Foam Equipment & Manufacturing is committed to meeting customers' spray foam needs. The company is led by owner and general manager Eric Bentson, who has been distributing and manufacturing spray foam products since 2005. He started in the industry in 1994 on the "gun end" of the business as a spray foam applicator.
With many years of experience and expertise in the spray foam industry, Bentson and his team are ready and capable to assist you in identifying the ideal and most cost effective equipment and products for your spray foam needs, as well as providing responsive technical support and troubleshooting. They are eager to help their customers increase their companies' profitability and success.
Contact Details
Name: Jason Spillers
Email: Email Us
Phone No: (318) 450-0335
---
Spray Foam Equipment Expands to Montana to Better Serve Western Customers