Spray Foam Equipment and Manufacturing Touts Equipment Toughness, Ease of Use
Spray Foam Equipment and Manufacturing Touts Equipment Toughness, Ease of Use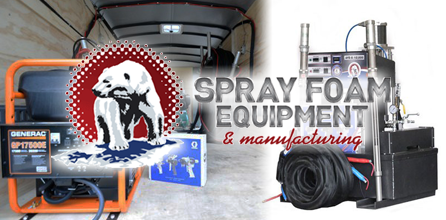 CALHOUN, LA - March 7, 2012 - Ease of use is the name of the game at Spray Foam Equipment and Manufacturing (SFE), a sentiment that is reflected in the company's Boss Proportioners. The Calhoun, Louisiana-based company has been manufacturing and distributing spray foam products and equipment since 2005.
"We began mainly building hoses and trailer packages, but we started manufacturing our own proportioners about a year and a half ago," said Jason Spillers, SFE's lead technician.
The SFE offers three models, all of which are 1:1 ratio proportioners:
"They're simple and easy to use with no complicated computer boards," said Spillers. "They also have more efficient heaters and pump systems."
The electrical systems are where user-friendliness really comes into play. The proportioners utilize 240V single-phase systems that are more robust than the computer boards and sensitive electrical devices used in competing machines. The preheaters offer the best of both worlds by being both larger and more efficient than those implemented in competing machines. This translates to heating SPF material faster, in greater quantity, and with lower energy consumption. The pumps are outfitted with larger cylinders and longer connecting rods. This feature eliminates the loss of pressure typically experienced with the first spray, a major advantage over competing machines.
Spillers also highlighted the advantages of SFE's technical support: with both manufacturing and servicing being handled in-house, quality service is a natural asset for the company. Moreover, as Spillers pointed out, many common glitches tend to be minor and can be troubleshot right over the phone. Also, SFE maintains an inventory of machine parts at their Calhoun headquarters, which expedites the repair process in the event that something does need to be replaced. In addition to parts and proportioners, SFE offers spray guns, spray suits and accessories. As mentioned before, the company also builds mobile spray rigs and provides hoses at a considerable savings to their customers.
About Spray Foam Equipment & Manufacturing: SFE has a full staff ready to serve your spray foam needs. The team is headed by the owner and general manager Eric Bentson who has been distributing and manufacturing spray foam products since 2005 and on the "Gun end" of the business as a spray foam applicator since 1994. With these years of experience and expertise in the spray foam industry, Eric and his team are ready and capable to assist you in identifying the ideal and most cost effective equipment and products for your spray foam needs, as well as providing responsive technical support and troubleshooting. For more information, please use the links below.
Contact Details
Name: Jason Spillers
Email: Email Us
Phone No: (318) 450-0335
---
Spray Foam Equipment and Manufacturing Touts Equipment Toughness, Ease of Use