Spray Foam and Intumescent Coatings Solve Water Treatment Plant Problem
Spray Foam and Intumescent Coatings Solve Water Treatment Plant Problem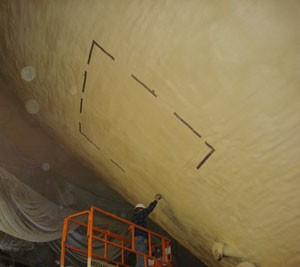 What do you do when Code requires a water resistant, ignition barrier over round or cone shaped spray foam insulated tanks? What if brittle cementitious nor loose adhering cellulose barriers won't work and sheetrock is impossible? Call TPR2's fire technology product development group!

That's what a major Water treatment project did when confronted with an insurmountable problem. The project was at a standstill while stymied engineers and code officials struggled with how to pass code on two (2) giant, 10,000ft2, inverted, sprayfoam insulated, cone shaped digester tanks which continually flexed when filled. The coating solution needed to meet E84 class A and meet commercial code requirements over spray foam insulation. The coating also had to be lightweight enough so that it would not break away from the foam when the tank was filled, emptied and flexed. Just as critical, the protective coating had to be waterproof and UV stable. The Fireshell® coating was the only fully compliant solution and it was the most cost effective one as well. The coating used was one of TPR2's proprietary formulations that was actually invented (and now mandated in) professional racing where heat, mechanical shock, thermal shock, vibration, flexure, fire, thermal barrier and fire extinguishing capabilities are already built into the coating.

TPR2 also helped cut out much of the lost time that elapsed during the delays from previous planned approaches. TPR2 even included coating training and onsite auditing reps to help make sure the rest of the project completed on time and without a hitch.
Fireshell® is applied with Single Component Spray Pump

The painters were able to spray almost 8,000ft2/day using just standard Graco bulldog equipment and Graco .025" tips, a much cheaper solution than either cellulose or cementitious products, and significantly faster than both. The fully installed solution costs ended up well below other approaches.

Per TPR2 Director of Sales, Jay Guisti, being the project superstar is becoming more commonplace at TPR2. "We're being asked to solve more and more of these challenging projects where other companies just throw up their hands or are ridiculously expensive to completely implement. We have such a large stable of unique, proprietary solutions that we are fast finding ourselves on many companies Speed Dial. That coupled with our racing heritage where our extreme duty coatings have proven themselves over and over again. These coating technologies are saving lives and machines in some horrific explosions and fire events in environments much more extreme than any commercial, industrial or residential environment. We like to say 'All in a days work for a company whose coatings are fire tested every weekend'".
Fireshell® Intumescent Coating over Spray Foam Insulation

TPR2 claims that Fireshell® F1E is the only weatherproof, elastomeric like, intumescent coating to pass exterior weatherability, anti mold and Ignition barrier tests directly over polyurethane foam, which makes it the best choice for cold storage, food preparation and waste treatment foam applications. It is also an approved Vapor barrier with less than 1 perm rating. Versions of the product can be made to be fire extinguishing, like TPR2's racing coating marketed under the Temprotex® brand. Thus, this new FireShell® product can provide significant opportunity for the foam sprayer and foam systems industry.

FireShell®, a green, water based, ultra thin film, one component coating, is easily applied with airless spray equipment, brush or roller; eliminating the need for expensive application equipment and provides the building owner with an aesthetically pleasing form of fire protection. Due to the widespread adoption potential, expanded distributor applications are also being entertained.

For more information, contact:
TPR2 Corporation
203 756 8772
www.tpr2.com

Spray Foam and Intumescent Coatings Solve Water Treatment Plant Problem