Spray Foam 2019 Kickoff Party
Spray Foam 2019 Kickoff Party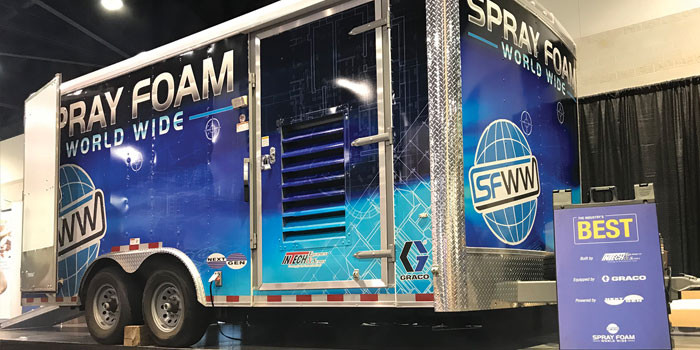 SPRING 2019 – This year's Spray Foam Show 2019 Convention & Expo was hosted in sunny Daytona Beach, Florida during the week of February 4 – 7th. Members of the spray foam community came from all over to network, participate in contests, and stay informed on what's currently happening in the industry.
The 2019 kickoff party, presented by Spray Foam World Wide and sponsored by Graco, included a number of giveaways and contests.
Tony Gargano, Vice President of Sales and Marketing for Graco, stated, "Graco was proud to sponsor an industry event that recognizes all of the hard work done daily by spray foam contractors. Without their time and effort, the industry would not be where it is today."
George Spanos, of Spray Foam Distributors of New England, hosted a competition in which contestants raced to assemble a Fusion AP and a Fusion CS gun from Graco, which were given away to the winners. Spanos said he and his team had a blast hosting the competition. "Hosting such a popular event is not only an opportunity to have some fun, but also a fantastic opportunity to meet the future of the spray foam industry," remarks Spanos.
There were over 600 entries in this year's spray rig sweepstakes. The rig was built with an 18-foot trailer– full right build-out and accessories from Intech Equipment & Supply, E-30 Elite Multi-Hose package and T3 transfer pumps from Graco, 35/35 generator compressor from Next Generation Power, plus air dry and hyrdamixer from Greensheld Products, Drum Racks from The Insulation Station, Fresh Air System from Bullard, Foamzalls (2) batter and electric, a set of foam and training from Lapolla, and a full 10 piece tool kit from Piranha Tools.
Thank you to this year's awesome party sponsors:
---
Graco
Icynene-Lapolla
SWD
Pinnacle West
Spray Foam Distributors of New England
Piranha Tools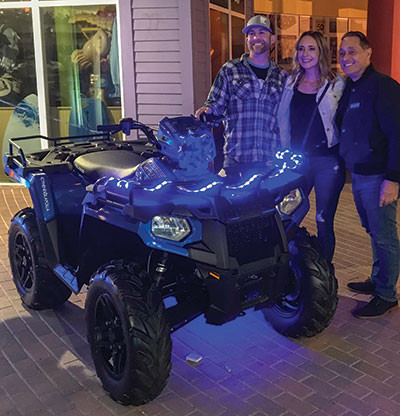 The winners of the Icynene-Lapolla quad giveaway, Josh and Angie Seldel, with president & CEO of Icynene-Lapolla, Doug Kramer of (right)
The five finalists were Jamie Albles, Scott Glenn, Cody Hensley, Elizabeth Pellegrom, and Robert Slack. There was also a Icynene-Lapolla Polaris Sportsman 570 SP Quad giveaway, which was won by Josh and Angie Seldel.
Bill Bilben, owner of Atticus Insulation and creator of the Spray Foam World Wide Facebook group, said this year's kickoff party was a huge success, with just under 500 attendees as opposed to around 300 at last year's party! "We throw the party each year for a few different reasons," says Bill, "The most important one is just getting everyone together. These gatherings have become more of a family reunion than anything."
Doug Kramer of Icynene-Lapolla commented, "For me, directly participating at the SFWW event keeps me grounded in the market. Having the opportunity to socialize and work with a great group of contractors keeps me in touch with the market, the challenges in the field, and the needs of those in which we serve as Icynene-Lapolla. Personally, it has also been a highlight for me to see much of the spray foam industry come together as a community with a common focus on the greater cause being industry quality, education, and support."
Overall, the event was a huge success and continues to grow year after year. Hope to see you there next time!


---
Spray Foam 2019 Kickoff Party