SPFA Encourages Spray Foam Contractors to Focus on Professional Development During COVID-19 Outbreak
SPFA Encourages Spray Foam Contractors to Focus on Professional Development During COVID-19 Outbreak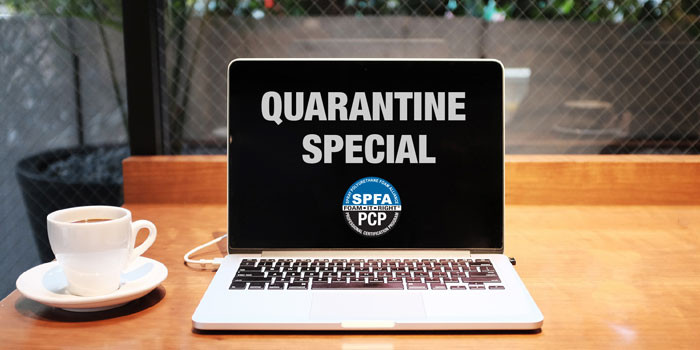 STAFFORD, VA – April 22, 2020 – The Spray Polyurethane Foam Alliance (SPFA), the educational and technical resource to the spray polyurethane foam (SPF) industry, is encouraging members of the SPF community to participate in professional development activities during any downtime resulting from the COVID-19 outbreak in the United States. For a limited time, the alliance is offering Exam Preparatory Courses of its Professional Certification Program (PCP) free to SPFA Members and companies with employees enrolled in PCP. Those who don't fall into either category may enroll in the PCP and get full access to all courses as they are released. All courses are offered in an online format for easy, safe remote access.
"The Coronavirus pandemic has slowed the jobsites of many of our members, particularly in regions where construction has not been categorized as essential business," said Kurt Riesenberg, executive director of the SPFA. "While unfortunate on many levels, the virus provides a unique opportunity for our professionals to enhance their marketability and reputation for best practices through certification while they have the time to do so."

The online certification courses being offered include:

SPF Assistant Exam Preparatory Course – Now available
The SPF Assistant Exam Preparatory Course lays the foundation in the basics of SPF chemistry, chemical health and safety, and jobsite safety. The SPF Assistant is the first level for both Insulation and Roofing certifications.

SPF Roofing Installer Course – Now available
This course helps prepare students to take Part Two of the SPFA Certification Written Exam for SPF Installer Roofing. The curriculum includes: Jobsite Set-up Procedures, Substrate Preparation, Startup Procedures, Foam Installation Methodology, Shut Down Procedures, and Coating Chemistry and Installation Methodology.

SPF Insulation Installer Course – Now available
This course helps prepare the student to take Part Two of the SPFA Certification Written Exam for SPF Installer Insulation. The curriculum includes: Pre-Job Planning, Jobsite Set-up Procedures, Substrate Preparation, Startup Procedures, Installation Methodology, and Shut Down Procedures.

The additional online Exam Prep Courses are in development and will be released as they are completed. These courses include:
SPF Insulation Master Installer
SPF Insulation Project Manager
SPF Roofing Master Installer
SPF Roofing Project Manager
Established in 2013, the PCP program is standards driven and ISO 17024 compliant. Safety and product performance are the centerpiece of the program, which establishes a set of criteria through which individuals can demonstrate their knowledge, skills and abilities in working safely, efficiently and professionally. All courses offered in the current special are completed online, allowing participants to complete sessions from the comfort and safety of their homes.

"The SPFA is always looking for ways to enrich its members and their businesses and the Professional Certification Program is an important piece of that," says Kelly Marcavage, director of the SPFA Professional Certification Program. "This is a perfect time for all contractors who find they have some extra time on their hands to work on their certifications and improve their professional standing."
Those eligible for free courses will be contacted via email. If you don't fall into either of these categories, but would like to attend the courses, please contact certdirector@sprayfoam.org. Enroll in PCP and your company will have access to all PCP Exam Prep Courses.
About Spray Polyurethane Foam Alliance (SPFA) Founded in 1987, the Spray Polyurethane Foam Alliance (SPFA) is the voice, and educational and technical resource for the spray polyurethane foam industry. The Alliance is a 501(c)6 trade association comprised of contractors, manufacturers, and distributors of polyurethane foam, related equipment, and protective coatings, inspections, surface preparations, and other services. The organization supports the best practices and the growth of the industry through a number of core initiatives, including educational programs and events; the SPFA ISO-17024 Professional Certification Program providing professionals with the tools to differentiate themselves from competition and a reference for customers looking to hire qualified contractor services; technical services covering publication of literature and guidelines, safety materials, and representation of the industry with various construction code bodies; federal and state advocacy; industry promotion efforts including an annual convention and expo drawing 1,400 SPF professionals, publication of Sprayfoam Professional Magazine; and research and networking opportunities for members.
Contact Details
Name: Certification Director
Email: Email Us
---
Disqus website name not provided.
SPFA Encourages Spray Foam Contractors to Focus on Professional Development During COVID-19 Outbreak