SPF Depot Purchases Two German Manufacturers
SPF Depot Purchases Two German Manufacturers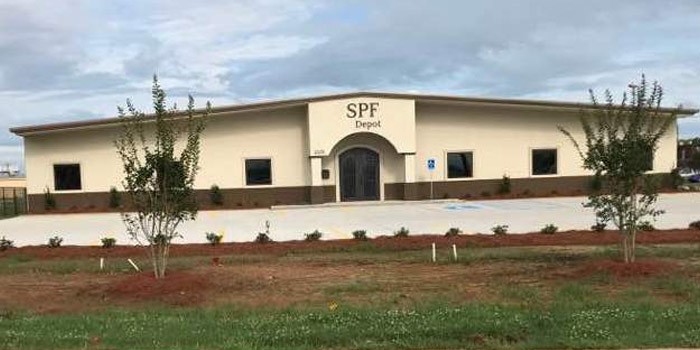 Patrick M Gililland, President of SPF Depot announced that SPF Depot has finalized the purchasing of 2 German firms specializing in parts and equipment for the SPF field. PolyCraft of Frankfurt, owned by Klaus Bucking was finalized just weeks prior to his sudden passing. Klaus Bucking and Pat finalized the purchase early 2018 and payment was made in full just 6 weeks prior to Klaus passing. All inventory for his aftermarket GAP PRO gun have been purchased and moved to the SPF Depot USA office. In turn, Klaus, owner of Polycraft started selling SPF Depot brand parts to his current customers throughout the EU region.
Klaus arranged for his Nephew, Daniel Bucking, president of PUR-Craft to assume his roll. PUR-Craft now stocks and sells SPF Depot brand products for the Graco Fusion AP, Fusion CS, GAP guns along with GUSMER Europe parts and equipment. They also manufacture heated hose sets for the SPF industry. PUR-Craft and SPF Depot will begin to manufacture the EC Janke SYsteme proportioners that are the same specifications of the original GUSMER H series. 4 sizes are available. They will also produce a new mini air powered unit called the A-10 which is much like the GlasCraft FF1600.
The 2nd firm purchased in October 2018 was EC Janke Systeme from Roding Germany. Mr Janke and Mr Bucking where close friends for many years while working for GUSMER-Europe. Pat met them both a few years ago and they developed a good relationship selling each others parts. Both decided to retire from the business and felt SPF Depot could best represent what they had built. Mr Janke has over $1 million in original GUSMER, GlasCraft and GRACO parts and equipment. Most will be moved to the US office with some going to the Frankfurt office to be distributed by PUR-Craft. and some going to Poland to be distributed to customers in Poland, Russia, Ukraine and the surrounding area.
SPF Depot had to add a 2nd floor mezzanine to their new warehouse to hold all of the new GUSMER and GlasCraft inventory. Some manufacturing will be continued in Germany for several aftermarket GUSMER parts such as rods and modules. Other items will be manufactured at the main office in Bossier CIty, Louisiana.
Prior to this purchase, SPF Depot purchased all remaining GAMA inventory from PMC in 2017. These purchases make SPF Depot a major supply house in the global market with them stocking OEM and aftermarket parts for the following:
Gama Master I
Gama Master II
Gama Master III
Gama Star
Gusmer GX7, GX7A, GX7-400, GX7-DI
Gusmer GX8
Gusmer AR125
GAP, GAP PRO
Graco Fusion AP, Fusion CS, Fusion MP
PMC AP2, AP3, PX7"
---