Shepherd Chemical Wins 2016 Polyurethane Innovation Award
Shepherd Chemical Wins 2016 Polyurethane Innovation Award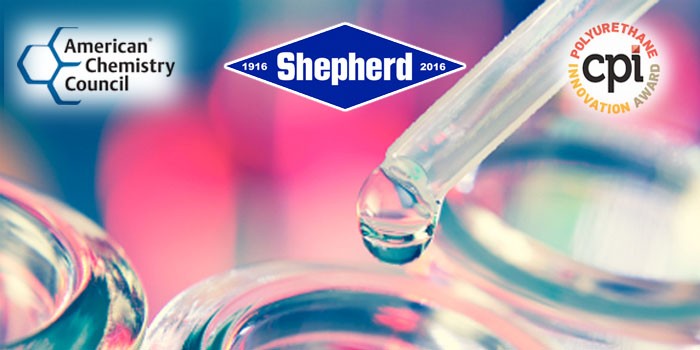 WASHINGTON, D.C. – September 29, 2016 – The Center for the Polyurethanes Industry (CPI) of the American Chemistry Council (ACC) announced that the Shepherd Chemical Company's BiCATs™ 8840 and 8842 water stable bismuth catalysts for polyurethane formulations won the 2016 Polyurethane Innovation Award. Shepherd's winning entry, one of three finalists, was announced during the closing session of the 2016 Polyurethanes Technical Conference in Baltimore, Md.
"CPI congratulates the Shepherd Chemical Company for winning the 2016 Polyurethane Innovation Award," said Lee Salamone, senior director of CPI. "Shepherd's novel application of polyurethane chemistry shows how our industry's innovations can have ripple effects throughout the value chain. This award-winning technology embodies the transformative power of polyurethanes."
BiCATs™ 8840 and 8842 offer the industry new curatives which allow formulators to improve the environmental impact while reducing cure times for spray foam polyol solutions with hydrofluoroolefin blowing agents.
RELATED
CPI Announces Finalists for Polyurethane Innovation Award
,
Polyurethanes Conference Keynote Panel to Feature Green Building and Chemistry Industry Leaders
,
Spray Foam Insulation and California's Goal for Zero Net Energy
,
Game-Changing Polyurethane Technologies Sought for Coveted Innovation Award
"The Shepherd Chemical Company is thrilled to be recognized by CPI and the ACC as the recipient of the 2016 Polyurethane Innovation Award," said Rob Hart, ?head of research and development at the Shepherd Chemical Company. "Our new HFO-compatible, water-soluble bismuth catalysts, BiCATs™ 8840 and 8842, allow formulators to further reduce the environmental impact and deliver the safety, comfort and efficiency of polyurethanes. It is humbling to be selected as the awardee considering the impressive inventions introduced by Dow and Huntsman during the conference. Our industry's continuous dedication to innovative and sustainable research and development – and CPI's leadership in this regard – is an inspiration to us all. Shepherd is honored to accept this award."
This year's Polyurethane Innovation Award finalists also included Dow's VORA Zzz™ ultra-high airflow and moisture-wicking foam technology used in bedding applications, and Huntsman's VITROX® HC 98010 polyol with SUPRASEC® 9801 isocyanate, a resin solution used in the chassis of the Bright Lite Structures' Zenos E10 sports car.
"Every year, I'm impressed by the groundbreaking technologies submitted for the Innovation Award," said Salamone. "Our finalists this year are truly cutting-edge, clearly the culmination of years of dedication and research. I can't wait to see the incredible innovations submitted for consideration next year."
Technologies submitted for the 2016 award must have been commercialized no more than 15 months prior to June 17, 2016. Nominations for the 2017 award will begin in spring 2017.
The 2016 Polyurethanes Technical Conference featured 18 technical sessions, 73 technical presentations, 66 table top exhibits, 22 poster presentations, nine Professional Development Program courses and nearly 1,000 attendees.
Be sure to follow CPI on LinkedIn and on Twitter at @ACCpolyurethane and #PolyCon16 for conference updates and industry news.
Contact Details
Name: Farrah Kim
Email: Email Us
Phone No: (202) 249-6524
---
Disqus website name not provided.
Shepherd Chemical Wins 2016 Polyurethane Innovation Award