Shades of Green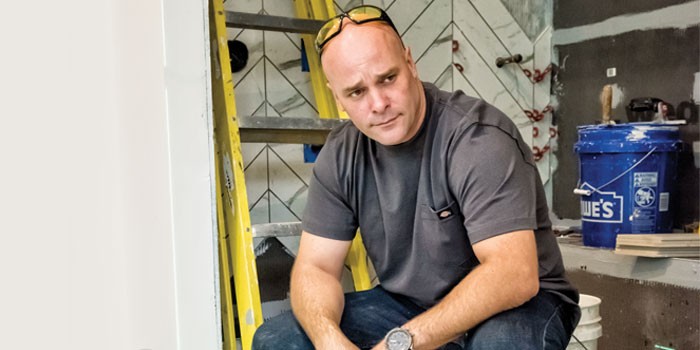 Environmental issues" is a phrase many have contemplated and then buried their heads in a mound of foam to escape. How is it possible to incorporate an eco product into a construction business and still be able to make our wallets green? Canadian HGTV star Bryan Baeumler isn't your average TV marketer's dream. He actually has a passion for all things construction, and he was in the business way before the cameras started rolling.
A father of four, Baeumler is taking the word "environment" seriously. "The environment is at the forefront when it comes to our current builds and building development, but the best four reasons I can think of are my children," Bryan shares. "We're leaving them our legacy. It's a big issue, highly important to me and my wife, as parents. It's a concern for the environment and human health in general."
His children grew up in the country, and they also love to go to the ocean, with his thirteen-year-old son already a certified diver. "They are the ones that say, 'hey, no plastic straws!' and 'they have outlawed plastic bags!' They are big into recycling and it's great to see them have that concern. A lot of people talk about the environment and they're worried. However, what we really have to worry about is humans. If we pollute the environment so badly that it wipes us out, the earth will recover, but we won't. It's not 'save the planet', its 'save humans.'"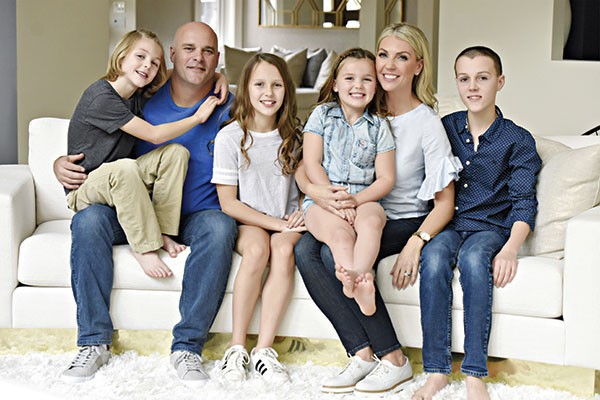 Baeulmer attributes his current outlook on using eco-friendly products and his concerns for the environment to his four children.
Bauemler took what he refers to as "an odd path" into construction and television. He grew up in a blue collar family and learned to use tools at a young age by fixing things around the house. After finishing school, he went on to study business and politics and seriously considered going to law school. He soon realized what he really wanted to do was construction.
He went to the George Brown College and took various building courses before he started in construction full time. "Part of my schooling, prior to construction, led me on a quest to advertise my company," Bryan enthusiastically shares. "I thought what better way to do that than to offer my services for free to a production company in exchange for some advertising. As it turns out, the production company was actually looking for someone to host a show and within a couple of weeks I got an offer to have my own TV show."
As a public figure, Baeumler has been given a platform in which he can promote the awareness of greener products suggesting, "One of the benefits of having various television programs is that it lets me speak to not only homeowners, but contractors as well. The way we show and educate people certainly has an impact on consumers' decisions on the reasons we buy things. People are becoming more and more well-versed on construction techniques and they often have a nagging thought of environmentalism, which they associate with a higher cost. So one of my goals in doing the shows and speaking with people, is to educate them about the real costs."
Owning a construction business for seventeen years has enabled Baeumler to use products and follow techniques that he believes in. "These products are not what I am paid to believe in," he emphasizes. "I have been lucky that with the products I trust, I have been able to approach those companies and do partnerships based on items we actually use."
Turning the attention to spray foam, Baeumler states, "A lot of people ask me about the word 'green' and 'green technology' and I break it down very simply—there is no product, nothing on this earth, that we can manufacture that has a zero carbon footprint. The difference is, we are not looking at green to start with, rather we are considering the long term costs.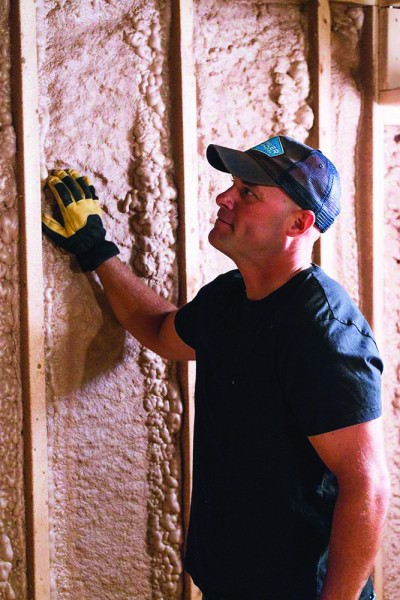 When I tell people to 'think green,' I actually mean green like money. By using things like Hydrofluoro Olefin (HFO) spray foam, your house will be more efficient to operate and save you money in the long run, forever."
Baeumler is adamant that if you put the money into products like HFO, there is a return on investment. An example of this would be using less fossil fuels and less energy. He observes, "The tough thing is we are a disposable society. People want to spend as little as possible up front and are not looking down the road thinking, 'if I spend a little more money to put a higher grade product in, its going to make my home healthier, more efficient, with longevity, which will pay me back for the rest of my life.' The cosmetics like appliances and granite countertops have a short life. If we plan and spend the money on things like HFO and see the operating costs, that's more of a long term asset."
Markets are consumer-driven and the shift to environmentally positive products is still seen as the more expensive option. Baeumler uses organic food as an analogy, "It's more expensive but you need so much less of it to get the same nutritional value as a gigantic bowl of processed food. We have been sold and marketed into more, bigger, better, and shinier rather than getting things of a higher quality with more durability. To look at the product, you don't see much of a difference, until your heating or cooling bill comes at the end of the month."
There are multiple benefits of using HFO, some of which include: tightening up a wall, adding structure to it, and eliminating airspace in a wall to protect against condensation, which can cause rot or provide a home for insects. In warm climates, HFO insulates the building so it's cooler. Baeumler says, "It's a one-time use product, compared to the older conventional insulated product, which eventually will compress, and not to mention the animals love it."
Baeumler likens the process of building or renovating a house to choosing a spouse. "You want it to look good, but at the end of the day, you want them to be healthy, long lasting (he giggles) and efficient. We have to stop seeing the perceived value of the cosmetics and start to see the real value of efficiency and longevity, which in turn saves us money and is beneficial to the environment. There are so many benefits to using HFO and the long term values will just keep paying you back." 

You May Also Like