Saving Face & a Farm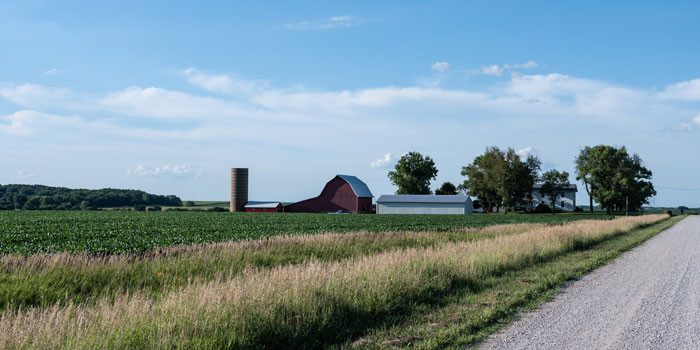 LATE SUMMER 2020 – Spray Foam Magazine – Owner of Dakota Applicators LLC, Michael Fischer, had quite a story to tell involving a family feud and a devastating tragedy that all led to the foundations of what is now a thriving business. Based in South Dakota where the American West shakes hands with the American East, the city of Gettysburg is where this epic story begins.
Michael Fischer's brother DJ had launched the company in 2009, with Michael buying into the business in 2012. DJ showed his brother the ropes of the business and things were going well when tragedy struck. In 2014, DJ died in an airplane accident along with three others while returning to Gettysburg from a cattle sale in Hereford, Texas.

Michael and the rest of the family were devastated with this great loss, but Michael wanted to carry on the good work they had built up together, so he bought the rest of the company from his sister in-law. This particular job will always stick in Michael's mind because it was the first solo spray without his brother.

Michael's uncle also owns a local company, providing businesses with oil. On numerous occasions, he would debate with Michael about how oil is extremely cost effective with the high efficiency of today's oil furnaces and therefore, the consumer is saving money over a period of time. He would joke around with Michael that this is what saved the consumer money in terms of energy efficiency, not SPF. One day, Michael received a call from one of his uncle's customers to come and spray a farm shop. "The farmer called me up to come and spray the sidewalls and roof. It was a metal building, built in the 1980s, and it used to store farm equipment. There had been a fire in the building and the smoke had damaged a lot. Previously they had installed the traditional foil-backed fiberglass insulation."
The farmer had heard about spray foam and contacted Dakota Applicators. Michael went to the farm to explain more about the benefits of installing SPF, discussing the initial cost while explaining the return on investment resulting in 30 to 50 percent savings. The farmer could pay off the cost of the foam in three to five years. He went on to explain the structural integrity of using spray foam and the benefits of temperature control and energy efficiency.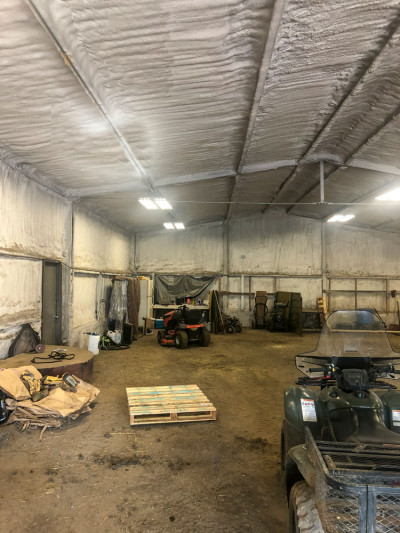 The team sprayed the whole 12,000 square-foot farm equipment shop
South Dakota has extreme weather conditions from icy cold winters to blistering hot summers and installing foam controls the temperature all year round. Following the fire, there was smoke damage which had resulted in a grease coating covering the metal frame. Michael had to make sure this was all removed by power washing the substrate, to free it from any excess oil before the spraying commenced.
The fire department had also left a number of holes which could also be filled with foam. By explaining all the benefits of SPF, the farmer was satisfied he would be upgrading his building. Due to its age and damage to the building, he was considering tearing it down and rebuilding, which would have cost a lot more money.
After the substrate was clean and Michael had filled the holes, he then lay plastic on the floor. The doors had not been put back in following the fire, so this made the work and equipment movement much easier. Michael has always used a Graco E20 stating, "That thing has been a workhorse for us. It has been a reliable piece of equipment from the moment the business opened."
The farm equipment shop was 12,000 square feet and three inches of Carlisle's two-pound closed-cell foam were applied, totaling roughly eight sets. The foam was applied directly to the steel from the inside with a solid white latex paint covering it for a smooth looking finish. In terms of safety measures Michael recalls, "This job was before I really knew how much proper PPE was good for you. When I did this job, I had a fresh air mask, but it was only a half mask and a pair of painters' goggles. I learned a fast lesson from not wearing the proper PPE. I would finish spraying and would want to tear my eyes out because the fumes would seep through an insufficient seal and overall, I did not feel great. So now we don't go into a building without having a full fresh air mask on. It is critical to have proper PPE." Michael worked solely on this job, taking three days to complete.
The farmer was very happy with the results, but Michael's uncle was not initially excited. Owning an oil and propane company, this farmer was one of his customers and a short time after the foam was installed, his uncle noticed he was not going out to the farm as much. In fact, his visits had dropped by at least 60 percent. Before his nephew installed the foam, he was out on the farm at least twice as much.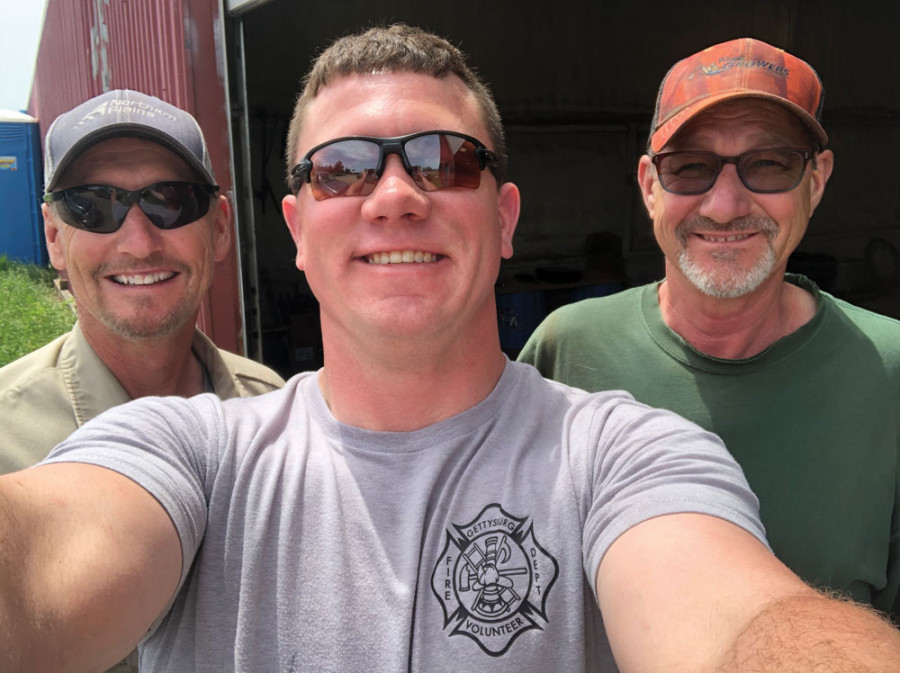 Michael is here in the middle with brothers, farmers and ranchers Kirk Bieber on the left and Brooke Bieber on the right
Michael's uncle is an older man and close to retirement and after years of preaching to his nephew about the benefits of oil heating, he now actually refers people to his nephew. "He knows how the long-term results of spray foam insulation can help a person," chuckled Michael.
Michael's business has really developed through customer trust and appreciation, and he has recently expanded to cover the Sioux Falls area of South Dakota. This expansion led Michael to go into partnership with Trent DesLauriers.
Through family tragedy and a settled family feud, Dakota Applicators has come out stronger than ever before. As for Michael's uncle, after the argument was settled and he saw first-hand the benefits of SPF, he has encouraged his nephew with his growing business and is the first one to preach about SPF benefits.