Rehab to Fab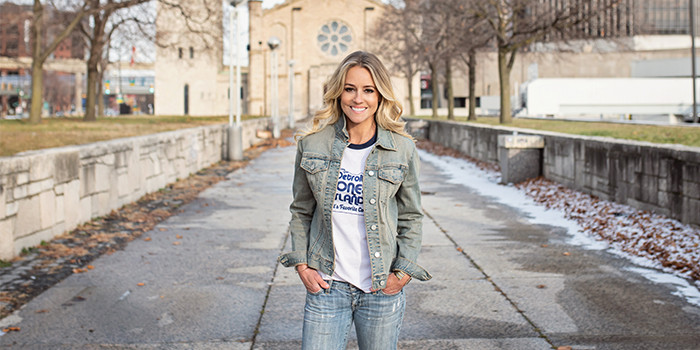 Spray Foam Magazine – Summer Issue 2021 – Nicole Curtis is an HGTV star, the host of numerous Airbnb rentals, and owner of her own business: Detroit Renovations LLC. Spray Foam Magazine chatted with Curtis about why she is a rehab addict, which also happened to be the name of her first show, and why she uses spray foam insulation in her projects.
Curtis takes on much of the manual labor herself on her HGTV show Rehab Addict Rescue
Nicole Curtis
Curtis' passion lies in the home-restoration business, specifically historic structures in Michigan and Minnesota. A self-taught home renovator, designer, contractor and licensed real estate agent, she started her journey when she bought her first house. She recalls, "I was 18 and I didn't have any money, so I did what I could on my own. I was young and broke."
Following that first renovation, she caught the bug of transforming rundown properties into new and beautiful creations, giving them a new lease on life for the "now" generation. Being very hands-on with the projects she undertakes, Curtis doesn't just sit back and watch contractors do all the work. This is evident in the show Rehab Addict, which premiered 12 years ago. »
The show follows Curtis as she takes on much of the manual labor herself, restoring the property and mixing the old charm of the build with modern conveniences. She goes on to explain, "This was a time when we didn't have Instagram and we barely had Facebook. Now if people want a show, they tag HGTV. There was a local production company in Minneapolis that spotted my real estate and renovation page. I was doing restorations on a budget and at the time no one was doing that on HGTV. It was all extravagant renovations. The production crew brought cameras out and filmed one of my projects and the next thing I know, we had a show. It was that quick."
Curtis has always been drawn to the old structures rather than being involved in new builds. "I have always been a very earth conscious person and the greenest house is the one left standing," she says. "I'm budget-minded and a historical preservationist. An old building is fascinating to me, I like to figure out its puzzles."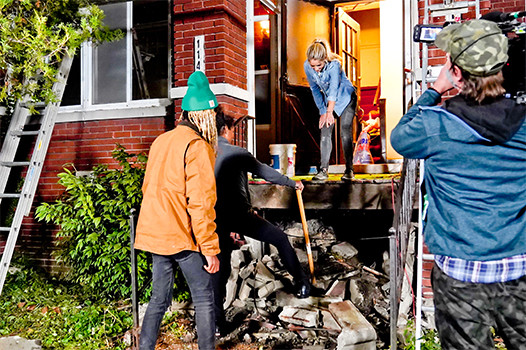 When it comes to new builds versus renovation, Curtis says she prefers the old structures. "An old building is fascinating to me, I like to figure out its puzzles."
Nicole Curtis
She continues, explaining how she feels many people see old homes as not being energy efficient. Curtis and her team specialize in proving that theory wrong. She laughs, "There is a joke that we often say to people when they say, 'old homes aren't energy efficient,' and we say, 'well close the door." Curtis explains that there are so many things that can be altered to achieve the energy efficiency of the building from glazed windows to the proper insulation. Curtis and her team try to use the show as a platform for preservation and for education. She continues, "There are not many people who purposefully seek to destroy history, they just do it because they don't know any better. I feel if I show people a different way, they will see things in a new light."
Nicole Curtis likes to use spray foam insulation on many of her projects for its soundproofing and efficiency benefits, and according to Curtis, "The fact that we have no worries about spray foam getting moldy is a bonus. Wet damage is something we face in so many restorations. Having to tear out fiberglass that has lost its integrity over the years. Consistently we have house leaks in these old properties, but with spray foam installed I'm not worried about it."


"CONSISTENTLY WE HAVE HOUSE LEAKS IN THESE OLD PROPERTIES, BUT WITH SPRAY FOAM INSTALLED, I'M NOT WORRIED ABOUT IT."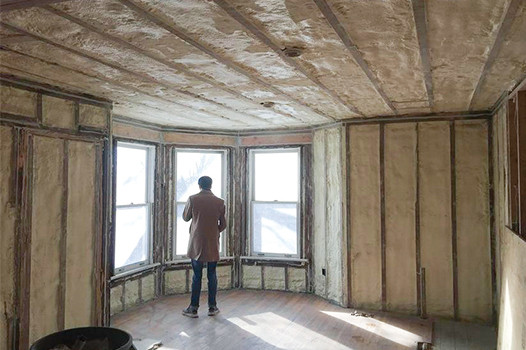 Curtis uses spray foam on all of her projects that are complete rebuilds. Many of the ventures she takes on have to be taken to the studs, and according to Curtis, "The perfect solution is spray foam. We recently used it on an 1880's restoration project and a 1904 home. Both had been gutted before we arrived. We also love using it in attic floors rather than other options because it leaves the space usable for further projects."
Curtis also always carries a can of Great Stuff for the smaller jobs, for example sealing windows and doors. For the larger jobs, she always contracts a spray foam specialist in the area. This is exactly what she did when she acquired a house in Birmingham, Detroit. The house, named the 14-mile house, cost her a mere $122k and needed a complete renovation, so Curtis and her team went in and took the house to the studs. Thinking back to the renovation, she said, "It's not just the energy efficiency side, I also really feel like spray foam takes the entire house and tightens it up. It's another layer of protection. We also used spray foam on this particular house as it's great for soundproofing and this house, like many of our homes, is on a major street."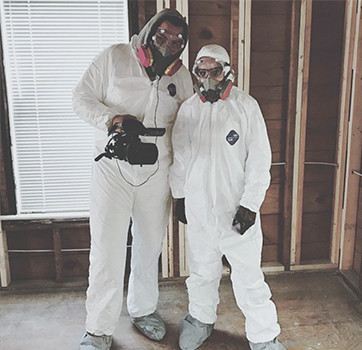 A well-respected spray foam company called Spraytight Inc. based in Metamora, Michigan was hired to spray the 14-Mile house. Owner and certified sprayer of Spraytight, Eric Qualls, and three of his crew took their Graco H-25 and arrived on site. They then commenced in masking and prepping windows, making sure to protect everything from the overspray.
The 14-Mile house was just under 2000 sq. ft with the crew spraying to seal the envelope and for the materials insulation value. The crew applied foam to Oriented Strand Board (OSB) with 6 inches on the main attic and 3-inch exterior wall application applying Firestone's - GACO OnePass 1850 a 2.0 density closed-cell spray foam with 2.5 sets used. They also sprayed the crawl space. It took Qualls and his crew two days to complete the project.
Curtis lets everyone know she is a big advocate of spray foam saying, "When we go to sell our houses, I really push the fact that we put spray foam in versus the batt insulation. Especially between our second floors and the attic space. We spray foamed that layer rather than doing blow-in insulation so that we can use our attic space and still have the value of insulation." »
Protective wear on the job is highly important to Curtis, who takes safety on her renovations very seriously. Making sure her staff, crew and contractors have the correct PPE at all times. She also makes sure every job performed is done to the highest standard and tells her clients to always work with spray foam certified sprayers and never attempt to do the large spray foam jobs on their own.
Following the renovation of the 14-Mile House, Curtis hosted an open house to raise money for a playground honoring Tessa Prothero, her friends' nine-year-old daughter who died after losing her battle with neuroblastoma. She also made the choice to keep her favorite builds in Michigan and rent them out on Airbnb, "Nobody actually knows they are our properties when they rent them. If you watch the show, you may be able to spot it's one of my renovated homes, but if you don't, you will have no idea. The houses speak for themselves," Curtis proudly states.

Nicole Curtis closes by saying, "Spray foam is the route we go. For our old houses, anything that can make them a little stronger and energy efficient, we are onboard with that."
Nicole Curtis's first show, Rehab Addict, ran for 10 years and there were over 118 episodes, which covered projects in Minneapolis, Detroit and Akron. Curtis stopped to catch her breath for a couple of years and just completed her new show, Rehab Addict Rescue, which aired on HGTV for 8 episodes. This show is also available to stream on Discovery.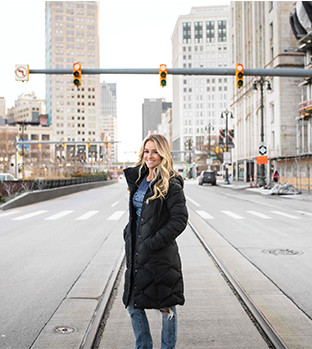 The new version of the show has Curtis helping to rescue the attempts made by homeowners on their historic home renovations. It makes for fun and educational watching about what to do and what not to do when restoring older buildings.
The Spray Foam Magazine team was impressed with Curtis's knowledge and passion for the materials and homes she works with and if there is another season of Rehab Addict Rescue, we will be tuning in and watching for the future spray applications.