Previewing the Largest Sprayfoam Show of 2020
Previewing the Largest Sprayfoam Show of 2020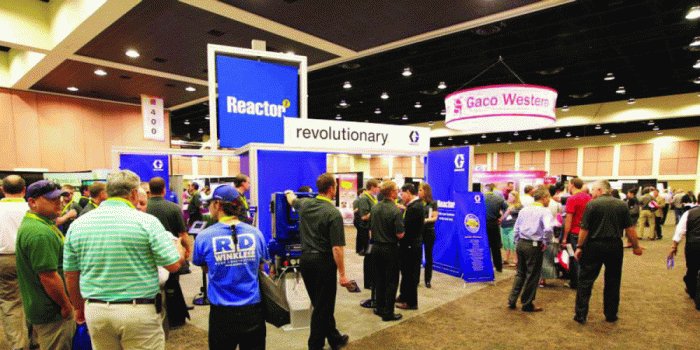 Spray Foam Magazine - Show Issue 2020 - This month kicks off the industry's largest annual event dedicated to spray foam, the 2020 Sprayfoam Show. With an average 1,400 in attendance in recent years, the show hosts the "who's who" in spray foam insulation, roofing, coatings, materials, equipment, services, and all things related to our industry's standout energy and comfort solutions. The event is being held February 11th through 14th at the Pasadena Convention Center in Pasadena, California.
This year the Spray Polyurethane Foam Alliance (SPFA), the show's host and voice of the industry, kicks the event off with the all-new, widely anticipated SPF Street Festival. On February 11th and 12th, the Street Festival for spray foam professionals entertains with celebrated regional food trucks, carnival games, demonstrations, and OSHA information sessions. See if you can out-do your colleagues in various competitions designed to test and showcase your SPF skills. Step up to the dunk tank and take your shot to submerge well-known industry leaders and personalities!
The SPFA is also offering Professional Certification Program (PCP) preparation classes and written examinations this year. Highlighting the growing demand among customers for certified professionals, those classes will be held on February 11th and 12th. Opportunities to complete the written exams exist throughout all four days of the show. It is important to note that classes are not required to take the exams.
Also on the 12th, golf enthusiasts hit the green at Brookside Golf Club for the Annual Golf Tournament. Fingers are crossed the famous SoCal weather will deliver sunny skies for the typical 130 golfers expected to attend.
Not one, but two, powerful keynote speakers are also presenting big ideas at this year's show. Stacey Hanke, author, certified speaking professional, and leader of Stacey Hanke, Inc., kicks off the main conference event on February 13th. Stacey is the author of two books: Influence Redefined: Be the Leader You Were Meant to Be, Monday to Monday and Yes You Can! Everything You Need to Know from A to Z to Influence Others to Take Action. She helps individuals eliminate the static that plagues communicative delivery- to persuade, sell, influence, and communicate face-to-face with a clear message.
George Hedley, CSP CPBC, a top construction industry speaker, certified professional business coach, and author, presents on the morning of February 14. The author of Get Your Construction Business to Always Make a Profit! is a recognized authority on best practices for building a growing construction business into a company which consistently produces bottom-line results, profits, and loyal high margin customers.
He founded and grew his own construction company into a 50-million dollar business in just seven years and has constructed over 500 projects, executed over 10,000 subcontracts, and currently owns and manages several office and industrial buildings.
February 13th and 14th also feature numerous education break-out sessions, the grand exhibit hall, and contractor-focused events. Subjects for learning sessions span: Business Basics; Election Year Possibilities; Reflective Roof Coatings; Issues with Termites; Marketing Spray Foam, Your Services and Yourself; Professional Certification Insights; Spray Foam Coalition Industry Update; Update on Phasedown of Hydrofluorocarbon (HFC) Blowing Agents; and much more. SPFA works hard to ensure that sessions offer a wide variety of topics that will appeal to everyone, spanning insulation, roofing, health and safety, business, and advocacy.
Explore the 50,000-square- foot exhibition hall for the latest and greatest products, equipment and services. The annual Contractor Excellence Awards luncheon is being held February 13th and the Contractor Only Working Lunch occurs on February 14th. The SPFA Hospitality Suite hosts cocktails, music, and networking each night and the anticipated Closing Show Reception and Dinner, featuring a Roaring Twenties theme, is February 14th.
Demilec is the Platinum Sponsor of The Sprayfoam Show. Gold Sponsors include Gaco, General Coatings Manufacturing Corp., Universal Polymers Corporation, Honeywell, Icynene-Lapolla, NCFI Polyurethanes, Polyurethane Machinery Corporation, and Thermoseal. Silver Sponsors of the event are Chemours, Conklin and Handi Foam. Bronze Sponsors are BASF and Carlisle Construction Materials. Premier Media Sponsors include Sprayfoam Professional Magazine (the official publication of the event), Spray Foam Magazine, Building Enclosure Magazine, Roofing Contractor Magazine, Walls & Ceilings Magazine, and CoatingsPro Magazine. Additional Media Sponsors include Roofing Magazine and PU Magazine and Industry Partners include Foam Expo, International Roofing Expo, National Roofing Contractors Association, HPIP, Urethanes Technology, and Spray Foam World Wide. Sponsors of the SPF Street Festival include Demilec, MCC Equipment & Sales, Gaco, General Coatings Manufacturing Corp., Universal Polymers Corporation, Honeywell, Icynene-Lapolla, NCFI Polyurethanes, Polyurethane Machinery Corporation, and Thermoseal.

---
Previewing the Largest Sprayfoam Show of 2020