Premium Spray Products and IFTI Successfully Pass Alternative Thermal and Ignition Barrier Testing
Premium Spray Products and IFTI Successfully Pass Alternative Thermal and Ignition Barrier Testing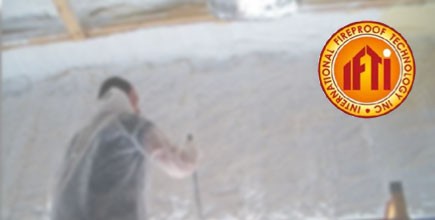 IRVINE, CA–August 26, 2013–Premium Spray Products teamed up with IFTI to conduct testing at Intertek in San Antonio, Texas. Two full-scale NFPA 286 room corner burn tests were passed over Premium Spray Product's signature spray foams: Foamsulate™ 50 0.5 lb. open-cell and Foamsulate™ 210 2.0 lb. closed-cell.
The certified tests were completed in June and August of 2013. The thermal barrier testing was passed at 20 wet mils and 13 dry mils (80 square feet per gallon). Ignition barrier testing was performed on the Foamsulate 50 and met the requirements of AC 377, Appendix X. The testing successfully passed at 4 wet mils, covering an amazing 400 square feet per gallon.
IFTI's goal is to prove, via testing and documentation, that DC315 is the best code-compliant solution on the market, compared to alternative thermal and ignition barrier products being used in the industry today.
"We are not going to stop until we have tests on every foam sold in the U.S.," states Gary Wolfe, Executive Vice President of IFTI. "Many coating company's say their coating will work on the spray foam brand you use, but it is another thing to prove it with testing, which is a critical requirement of alternative ignition and thermal barrier solutions. If you are not using DC315, you may not be complying with the codes!"
IFTI leads the industry with a catalog of over 63 full-scale tests on open-cell and closed-cell spray foams with 18 major SPF manufacturers. All tests are full-scale and meet the applicable requirements of 2006 IBC Section 803.2.1; 2009 IBC Section 803.2.1 and Section 2603.9; 2012 IBC Section 803.2.1 and Section 2603.10 Special Approval for Thermal Barrier Alternatives. DC315 also meets the requirement as an ignition barrier, per AC 377 Appendix X.
DC315 is a one-coat, wet-on-wet application, water-based latex paint that offers superior fire protection over foam. DC315 applies like regular latex paint using an airless sprayer and, being water-based, offers easy cleanup. DC315 meets Life Safety Code and LEED point requirements; complies with the requirements of NSF/ANS1 51 Incidental Food Contact; has passed strict EPA VOC and AMQD tests meeting emission requirements for all 50 states; and has passed CAL 1350 certificate of compliance ("safe for use in schools and high-occupancy buildings"), as defined in the CA DHS Standard Practice for being low-emitting.
For more information about IFTI, or to see a full list of all of the tests DC315 has passed, please use the contact details and links provided below.
About International Fireproof Technology, Inc.: IFTI manufactures state-of-the-art intumescent fire retardants and thermal barrier coatings. Designed and tested for the global market, IFTI's products are widely used in hospitals, restaurants, nursing facilities, commercial buildings, and residential homes. IFTI's products, including DC315, fall under the Paint to Protect brand, and have been developed to provide superior cost-effective fire protection over spray polyurethane foam. for more information, please use the contact details and links provided below.
Contact Details
Name: Gary Wolfe
Email: Email Us
Phone No: 855-253-7565
---
Disqus website name not provided.
Premium Spray Products and IFTI Successfully Pass Alternative Thermal and Ignition Barrier Testing