Polyurethane Machinery Corporation Introduces New Proportioner, Welcomes New Distributor
Polyurethane Machinery Corporation Introduces New Proportioner, Welcomes New Distributor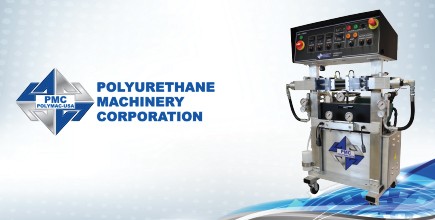 LAKEWOOD, NJ – March 24, 2015 – Polyurethane Machinery Corporation (PMC) has two big announcements: the introduction of their NEW PH/PHX-2 hydraulic proportioner and the addition of ProFoam to PMC's distribution network.
Introducing PMC's NEW PH-2 Hydraulic Proportioner
The PH/PHX-2 Series is the newest generation in PMC's hydraulic proportioners offering high value and superior performance at an entry-level price. Ideal for use in residential foam applications and coatings such as bed liners and containment pipes, the PH/PHX-2 is the most economically priced hydraulic horizontal pump line proportioner on the market today. This unit's outputs rival competitive machines and is offered at a fraction of the cost.
The CE certified unit has an integrated ball check design, newly designed clevis connections, pressure balance control (PBC) system to ensure on ratio spraying, Inlet monitoring system, manifold assembly for quick installation of future options and is priced lower than any horizontal hydraulic proportioner on the market. It's small footprint and lightweight design allows for a compact fit in trucks and trailers and requires only 10 gallons of hydraulic fluid.
The PH/PHX-2 Series is a fine addition to compliment PMC's complete product line of spray polyurethane foam equipment and accessories. Always designing and engineering with the customer in mind, PMC continues to offer affordability without sacrificing performance with all of their hydraulic proportioners.
PMC Welcomes ProFoam to their Distribution Network
As a new members of PMC'S authorized distribution network, ProFoam is will serve the needs of the local southeast spray polyurethane market.
ProFoam is owned and operated by Ted Medford, a long-time industry veteran with over twenty years experience under his belt in the spray foam industry. Ted and his team bring a rare level of service and expertise to spray foam contractors.
ProFoam takes prides in being the best spray foam material and equipment providers in the country. Their experience and reputation in the SPF industry has grown and flourished over the past twenty years. Ted has extensive experience as a homebuilder and spray foam contractor himself, as well as a diverse background and experience helping many entrepreneurs build successful SPF businesses. ProFoam is uniquely positioned to partner with contractors to help their foam and coatings business succeed.
PMC is excited to have ProFoam on board and looks forward to working with Ted and his team. Contact ProFoam today for all of your SPF equipment and industry needs in the southeast.
About PMC: Polyurethane Machinery Corporation (PMC) manufactures equipment and accessories for use in the urethane industry. At PMC, the service does not stop with the sale. PMC provides its customers with outstanding sales and technical service through a worldwide network of distributors. For more information, please use the contact information and links provided below.
Contact Details
Name: Bill Hrynkiewicz
Email: Email Us
Phone No: 855-875-7610
---
Polyurethane Machinery Corporation Introduces New Proportioner, Welcomes New Distributor