Polyurea Coatings for Secondary Containment
Polyurea Coatings for Secondary Containment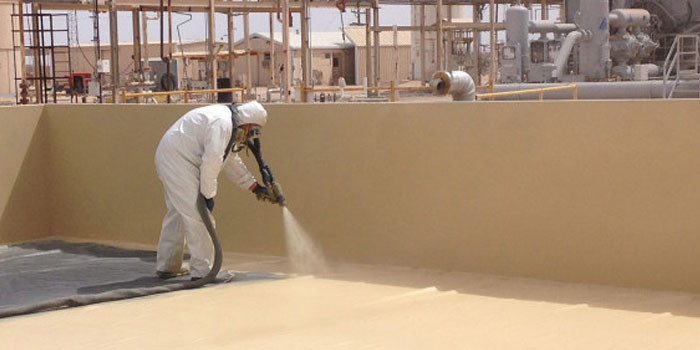 West Palm Beach, FL - Dec. 8, 2020 - As the EPA specifies that secondary containment systems are required to mitigate soil, ground water, or surface water contamination, it's important to know best practices to meet these regulations in the event of failure of a primary containment system. Your next line of defense is a secondary containment system with applied coatings to make sure the risk of contamination is haulted. Polyurea coatings are the key.
Protecting soils, ground water underneath tanks, and infrastructure is priority one when it comes to safeguarding the environment and meeting regulatory standards. Using a secondary containment coating such as an elastomeric polyurea has many advantages. According to Chas Weatherford of Specialty Products, Inc – SPI, "using polyurea as this secondary containment barrier continues to be the preferred solution by specifiers and facility owners. The chemical resistant properties of polyurea coupled with the fast cure times and high tensile strength makes it the ideal solution for most industrial applications when a protective barrier is necessary. Polyurea exhibits incredible physical properties that exceed other optional technologies. Polyurea coatings provide an excellent protective sheath while maintaining its chemical properties at high and low temperatures and its impenetrable properties which are just a few of the advantages of use.

As with any secondary containment design, it is critical to determine exactly what chemicals or product the polyurea will need to contain. It is imperative to know the concentration of the chemicals or products, the temperature when contacting the liner, and the duration of contact with the liner before it is removed. These factors will determine which polyurea system to use as all polyureas will not perform in the same manner since they are designed differently. For example, aggressive caustic chemicals or acids will require polyurea formulas designed specifically for those applications rather than ones developed for less aggressive products. Chas also states that, "secondary containment designs using polyurea continues to rapidly advance, which includes higher performing formulation designs, system designs, and installation methods."

Whether polyurea is applied to concrete in a basin, over geotextile fabric on pre-sprayed panels, or a custom designed system for underground tanks, polyurea continues to be a technology leader, providing long term proven performance while protecting the environment.

Polyurea Coatings for Secondary Containment