PMC Celebrates Partnership and Pride
PMC Celebrates Partnership and Pride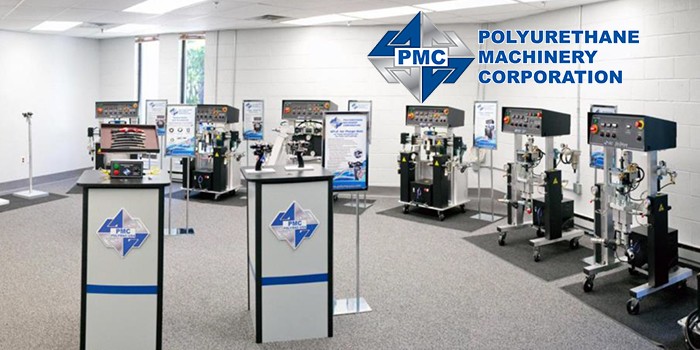 LAKEWOOD, NJ
– October 24, 2016 – Polyurethane Machinery Corporation (PMC) knows how to throw a celebration! PMC recently invited all of their partners from around the world to a Global Distributor Meeting. The meeting had two core themes – partnership and pride.
The meeting took place at the newly upgraded PMC facility in Lakewood, NJ. Guests from around the world rolled up their sleeves for a week and learned about new products, shared business strategies, and collectively planned for a year of continued growth. Visiting distributors were treated to a comprehensive tour of PMC's impressive 100,000 square-foot facility, participated in constructive discussions about competition, technology, and customer service.
All members of the PMC team were present, including executive management, sales, technical support, quality control, and marketing. CEO and Chief Executive Officer from parent-company PMC Global, Inc., Mr. Philip Kamins joined the meeting and spoke to the group about the importance of partnership and PMC's dedication to their distributors.
Each of the 50+ distributors was given the chance to speak at the meeting and share insights on the industry and their experience with PMC. During these discussions, the underlying theme that was voiced was the confidence and PRIDE that they felt working with PMC and their team.
But it wasn't just work, work, work. PMC's guests were treated to two fun evenings that gave them a taste of the "Jersey Shore." The first night, PMC hosted a clambake at the famous Jenkinson's boardwalk and the sunset could not have been more perfect. The last evening of the Global Meeting was a more formal event – a dinner cruise on the River Queen. During this event, President Mike Kolibas recognized Sprayworks Equipment Group, LLC as the "Top Distributor for 2015." On Friday some guests headed for home, but a few decided to stick around and go on a fishing trip to top off a fun-filled week.
Overall, the meeting and festivities were a resounding success. PMC's President Mike Kolibas states, "We were very happy and excited to have the opportunity to bring all of our partners together to interact with the entire PMC team. This meeting afforded us the opportunity to get some valuable feedback that will enable us to continue to improve our products and services for our customers. At this gathering, PMC was able to demonstrate our support for the industry and show our partners the commitment PMC organization has toward making the best spray foam and coatings products on the market. We appreciate our distributors and thank them for their business and confidence in PMC."
About PMC: Polyurethane Machinery Corporation (PMC) manufactures equipment and accessories for use in the urethane industry. At PMC, the service does not stop with the sale. PMC provides its customers with outstanding sales and technical service through a worldwide network of distributors.
Contact Details
Name: Bill Hrynkiewicz
Email: Email Us
Phone No: 732-415-4400
PMC Celebrates Partnership and Pride