Plastics Make It Possible® Honors the Everyday Heroes Who Protect Us And Safety Innovations That Protect Them
Plastics Make It Possible® Honors the Everyday Heroes Who Protect Us And Safety Innovations That Protect Them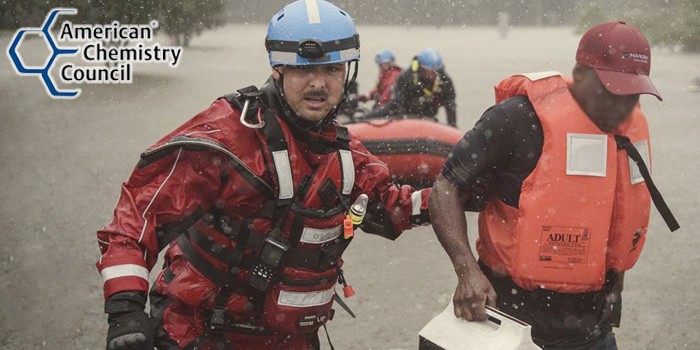 WASHINGTON, D.C. – October 24, 2017 —They run into burning homes, brave raging floodwaters, battle devastating wildfires, and help stop epidemics. These and other heroes are featured in "Protecting Our Heroes: A Tribute to Safety and Innovation," an online gallery, video, and multi-city pop-up exhibit has launched by Plastics Make it Possible.
Working with the International Safety Equipment Association (ISEA), Plastics Make it Possible identified a dozen everyday heroes across the country—firefighters, policemen, medical professionals, and other rescuers—and tells their personal stories of harrowing experiences on the job. These often-unsung heroes rely on personal protective equipment (PPE) to help keep them safe, such as strong polycarbonate plastic helmets and goggles to help prevent head and eye injuries, and innovative neoprene plastic dry suits that help protect water rescuers from frigid temperatures and debris.
"For all the protective gear you wear, there's nothing that can prepare your nerves for the roaring intensity of a wildfire," says wildland firefighter Bailey McDade, a featured hero and one of many firefighters facing an especially turbulent 2017 season. "To keep me here—and the fires out—we rely on plastic protective equipment that's resistant to heat and flames, yet very lightweight. When I'm on the front lines fighting a fire, putting on my plastic face shroud feels like closing an oven door."
In addition to McDade, the online gallery and interactive exhibit include a search and rescue specialist who helps save victims in floods, a smokejumper who parachutes into remote locations to fight wildfires, and the nation's first female bomb technician who uses a plastic bomb detector with sensors to locate and disarm explosives, sometimes in the midst of sandstorms. These three heroes are highlighted in a short video that airs in the pop-up exhibit, as well as online at www.plasticsmakeitpossible.com/heroes
RELATED OSHA, American Chemistry Council Sign Alliance to Protect Workers, U.S. Construction Workers Will Suffer from Heat-Related Illnesses this Summer, Water, Rest, and Shade, Ease Up On Energy Consumption

"Plastics makers are proud to have a role in protecting the brave Americans who protect us all," said Steve Russell, vice president of plastics at the American Chemistry Council, which sponsors Plastics Make it Possible. "High-performance plastics provide the critical combination of strength, durability, and mobility that protect the heroes who protect us."
Widespread use of PPE can help reduce risk of injury in dangerous occupations. "According to the Bureau of Labor Statistics, more than 4,000 workers are killed on the job in a given year. When used correctly, PPE can help bring those numbers down," says ISEA President Charles Johnson. "May we be ever diligent to put protection into every practice of our lives and be thankful for the technology and the innovations that allow our heroes to do their jobs."
The "Protecting Our Heroes" online gallery can be found at www.plasticsmakeitpossible.com/heroes. The pop-up exhibit was free of charge and open to the public at Copley Place in Boston from October 13–15, followed by an exhibit at Greystone in Piedmont Park in Atlanta from October 20–22. Additional exhibit sites will be announced in the future.
Contact Details
Name: Jennifer Killinger
Email: Email Us
Phone No: (202) 249-6619
Disqus website name not provided.
Plastics Make It Possible® Honors the Everyday Heroes Who Protect Us And Safety Innovations That Protect Them